As recovery of the long haul air travel segment is expected to take longer than was expected even a few months ago, Boeing has responded by reducing the production rate of its Dreamliner-family. Instead of rate six from mid-2021, the airframer has made a "modest adjustment" to five per month, Boeing's Chief Financial Officer Greg Smith explained during a Credit Suisse Bank webcast on December 4.
This is the latest adjustment to the 787 production rate, which originally was planned to go from ten to fourteen per month from 2022. During the transition period until mid-2021, the rate will drop below rate ten as even this is more than the current market can absorb.
Until November, Boeing has delivered 53 787s this year, including five -8s, 36 -9s, and twelve -10s. Since Covid became a pandemic and airlines have been forced to suspend most of the long-haul network, they have been reluctant to take delivery of new aircraft for this market segment. From twelve 787's to be delivered in February, numbers have come down to as low as just two in July. September saw seven deliveries, but October only four again.
In November, no Dreamliners have been delivered as the checks and rework of aircraft with potential quality flaws in its empennage section have taken longer than expected, Smith said. This has resulted in "a large number" of undelivered Dreamliners in storage in both Everett and North Charleston, the latter to become the sole Dreamliner production site from the middle of next year. "Unwinding" this inventory will take some time into 2021. No deliveries are expected for December either.
Boeing remains confident of the long-term opportunities of the 787-family, with Smith stressing the demonstrated and 'robust' market capabilities, including 25 percent better economics compared to older generation airliners. Boeing counts 471 Dreamliners in its backlog as of November 1, including 44 adjustments due to ASC 606 accounting rules. The gross backlog of 515 includes 47 787-8s, 326 -9s, and 142 -10's.
Need for new equity not ruled out
While has sufficient liquidity short term, Boeing is looking at new options: "When it comes to capital deployment, it will be all about paying down that debt," said Greg Smith. "We will continue to invest in the business, but we have got to get this debt balance down. And we'll look for every opportunity to do that in the most efficient way, including equity. Nothing is off the table, we are constantly reviewing it and get our balance sheet back to where it was."
The return to service and resumption of deliveries of the 737 MAX should be the key driver to provide Boeing with much-needed cash, improve its negative free cash flow ($-4.8 billion by the end of Q3), and start reducing the $61 billion debt. This includes $16.5 billion in marketable securities drawn from investors this year to get it through the effects of the Covid-crisis.
Speaking about the MAX, Smith said Boeing has "all options on the table" to reconfigure MAX already produced for one specific customer to another if the original client has or wishes to cancel its order. On a MAX, this is done more easily than on a twin-jet, said Smith. Boeing has the resources to execute these modifications, but it will be about the abilities of the customer to take the aircraft. Asked if some canceled aircraft might end up with Ryanair (which ordered 75 MAX 8-200s on December 3), Smith said that could be an option.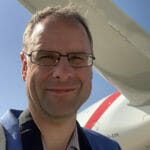 Active as a journalist since 1987, with a background in newspapers, magazines, and a regional news station, Richard has been covering commercial aviation on a freelance basis since late 2016.
Richard is contributing to AirInsight since December 2018. He also writes for Airliner World, Aviation News, Piloot & Vliegtuig, and Luchtvaartnieuws Magazine. Twitter: @rschuur_aero.