Boeing expects Latin American airlines to buy 2,610 airplanes, valued at $365 billion, through 2039, the company said in a statement. 
Boeing's outlook

Single-aisle commercial models will comprise 90% of the Latin American demand. This reflects the expansion of affordable travel opportunities across and within the region, added Boeing. 
Ricardo Cavero, vice president of sales for Latin America and the Caribbean, said, 
"While the aviation industry across Latin America and the Caribbean has been hard hit by the pandemic, fundamental growth drivers in the region remain strong. South America, in particular, has considerable untapped market potential for air travel expansion driven by economic expansion and a large geographic area best served by air travel."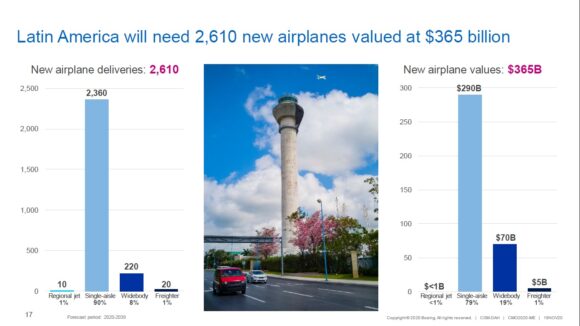 According to Boeing, regional airlines will require more than 2,360 new single-aisle airplanes at a market value of US$290 billion.  There will also be a demand for 220 widebody passenger airplanes and 20 purpose-built widebody freighters. These two represent a total delivery value of US$75 billion, said, Boeing. The regional aircraft market is non-existent in Latin America, according to Boeing. It will account for less than US$1 billion in sales during the next two decades.  The COVID-19 pandemic reduced by 12% the projected aircraft demand in Latin America. 
Nevertheless, the aftermarket commercial services are still worth US$480 billion. These services include modifications such as Boeing Converted Freighter airplanes, parts, and supply chain services, and analytics-powered digital solutions for support flight and maintenance operations. 
Embraer's outlook

Last year, Embraer published its Market Outlook for the next ten years. 
Worldwide, Embraer foresees demand for 5,500 new aircraft with up to 150 seats over the next ten years. This represents a total market value of US$350 billion. 
According to Embraer, Latin America will need up to 380
jets of up to 150 seats and 130 turboprops. In total, there will be deliveries of up to 710 narrowbodies.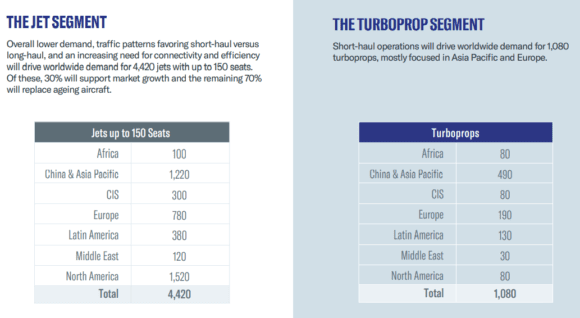 The Brazilian company expects an increase in the fleet of up to 150 seats from 430 aircraft in 2019 to 810 in 2029. In 2019, flights operated by aircraft in the up to 150 seat category represented 42% of all departures in the region. However, Embraer expects a mismatch between capacity and demand in the following years due to the large narrowbody order backlog and a fleet of rapidly-aging regional aircraft. The COVID-19 pandemic presents an opportunity for airlines to make adjustments, revise business strategies and seek more balanced fleets, said Embraer. 
Final analysis

Cirium expects Latin America to account for 7% of the deliveries between 2020 and 2039. The Latin American market still has a lot of untapped potentials to grow, as Boeing said. Many cities were underserved even before the COVID-19 pandemic. 
While the current crisis means many airlines will shrink (Latin America currently has three key players in Chapter 11 bankruptcies), the industry will rebound. 
Low-cost carriers will fuel Latin America's growth. Legacy airlines will adjust to the new times and eventually will be on the right track again. 
Nevertheless, both for Boeing and Embraer, a crucial question remains: how to compete against the regional superpower, Airbus? That's something to keep an eye on.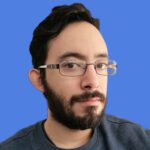 Daniel Martínez Garbuno is a Mexican journalist. He has specialized in the air industry working mainly for A21, a Mexican media outlet focused entirely on the aviation world. He has also published on other sites like Simple Flying, Roads & Kingdoms, Proceso, El Economista, Buzos de la Noticia, Contenido, and Notimex.