Status Ante
There is a great need for new commercial airplanes in Iran.  Iranian airline safety is a critical issue and has been for some time.  The following table lists the 3Y20 in-service aircraft among Iran's airlines according to Jet Information Services.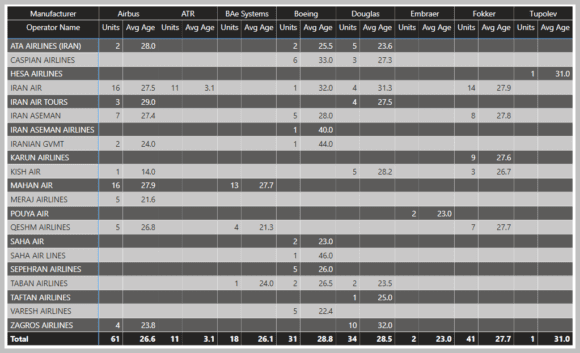 From a US perspective, with Boeing's problems and available MAX whitetails, there could be an immediate benefit from a thaw in relations. Relaxing commercial aircraft sanctions could benefit an industry in need of customers and create a win-win situation.
Politics
A problem is that in politics the one who blinks first is perceived as the weaker. Both sides have perceptions of how they need to behave and be seen to be "strong".  Saving face is important for both sides.  The Gordian Knot is to find a way where both can claim a victory in a situation where one side's victory is not the other's loss.  Throw in several decades of mutual animosity to add to the complexity and one can see why the path forward is complex. It was politics that got us here and it is politics that has to get us beyond it.  The solution calls for people with vision.

The Humanitarian Factor
There is a case from the humanitarian side.  Iran has seen devastating airline crashes.  The country's airline fleet is so old as to be unsafe and more passengers will likely die as aircraft become difficult to maintain.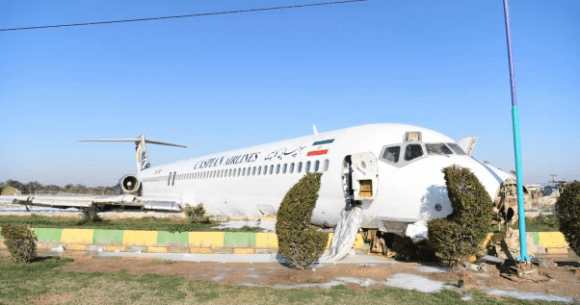 The following table demonstrates just how old Iranian aircraft in the upper table are in relation to other regions.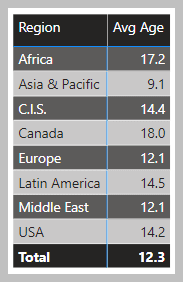 As these tables illustrate, Iran's airlines need to re-fleet.  Bear in mind the BAe, Douglas, and Fokker aircraft shown are out of production.  This means that spares are becoming less easy to find. Iran, subject to sanctions, faces a higher hurdle in acquiring spares.  Airlines outside Iran operate on tight budgets, and one can only imagine how much tighter budgets are for Iranian airlines. The humanitarian argument to ease sanctions so Iran's airlines can replace their old passenger aircraft is uncontestable.
The Economic Reality
Easing US sanctions on Iran could be a win-win for the currently troubled global aerospace industry.  More specifically, the US aerospace industry and especially Boeing.  The US can focus on easing commercial aircraft sanctions, spare parts, and associated financing or leasing.  The number of jobs associated with aerospace is significant and Boeing has, for years, been the US' most important exporter.  Limiting the easing of sanctions to this one segment provides a mutually useful first step for both sides.

Moreover, easing sanctions opens more than aerospace supply chain opportunities.  Any deals will require financing, and this is another segment of the aerospace industry that would benefit from an opening.  Iran does not have the cash to buy aircraft for its national airline.  The numerous private Iranian airlines also require access to financial markets to support their fleet renewals.
Once both sides are talking, other issues can be opened for discussion for potential progress.  For example, the nuclear issue, support for terrorist organizations, and regional stability. 
An Iranian View
Based on dialogue with a seasoned Iranian airline executive, here are issues that are likely of concern to the Iranian government.  In short, they need the Office of Foreign Assets Control (OFAC) license rules eased.
OFAC policy, from the Iranian view, is not transparent and confusing.

ATR got a license to export, Embraer and Sukhoi could not.
Airbus got a license in 2016, Zodiac could not get one for seats on those aircraft.

Boeing could not get an OFAC license for Aseman's 30+30 new aircraft deal nor for two used 777s.

Another example is Airbus did try to get a license for two A340-300s in 1999, but OFAC did not approve this.
Iran feels that OFAC was familiar with Aseman before signing the contract between Aseman and Boeing, Airbus, and Embraer.

Finance: Who can and will finance deals? It appears that currently there is no priority within Iran to pay cash as they did for three A330s and 13 ATRs. Given the sanctions on Iran, global financial markets remain frozen. OFAC easing needs to see a parallel in associated financial markets.

Financial Action Task Force (FATF): Does this organization have any impact on OFAC or US government decisions? Iran is not

yet

a signatory to this organization.

Contracts: Iran likely wants to renegotiate its previous aircraft contracts. Things are very different in 2021 from 2016.

Lessors: Should Iran apply for OFAC licenses on used aircraft from lessors?

This would ensure faster deliveries and overcome Iran's fears of previously aborted deals.

Iran's private airlines, given their financial condition, are likely to show an interest in used aircraft.

Currently, this is a favorable market to acquire relatively new aircraft, i.e. the Norwegian fleet.
Summary
Could commercial airliners break the logjam between the US and Iran? We won't know until both sides try. This not a zero-sum game.  A successful reopening of the commercial aircraft business, with the associated financing transactions, benefits both sides.  This benefit comes at a time when both sides, quite frankly, need it.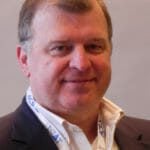 Co-Founder AirInsight. My previous life includes stints at Shell South Africa, CIC Research, and PA Consulting. Got bitten by the aviation bug and ended up an Avgeek. Then the data bug got me, making me a curious Avgeek seeking data-driven logic. Also, I appreciate conversations with smart people from whom I learn so much. Summary: I am very fortunate to work with and converse with great people.