Boeing's first Sustainability Report confirms the OEM's cautious approach to the use of hydrogen to power the next generation of commercial airliners. Whereas Airbus has set a goal to deliver its first hydrogen airliner by 2035, Boeing takes a somewhat lukewarm stance against this ambitious goal as it prefers other options to get carbon emissions to net-zero. Boeing remains cautious about hydrogen.
In the report, which was released on July 26, Boeing's Chief Sustainability Officer Chris Raymond says on the option of hydrogen: "Battery-electric energy storage and green hydrogen have potential but will require new design studies, safe certification approaches, new technology developments, platform developments, and new systemwide ground and network infrastructure to scale. Also, the large majority of aviation sector emissions are associated with long-range aircraft and flights, which are at a physical scale that is not yet supported by these alternative energy approaches. For these reasons, we see them as longer-term solutions."
Raymond continues: "Given the near-term need for emissions reduction and with the primary sources of aviation emissions stemming from longer-haul flights, our near-term emphasis is on sustainable aviation fuels (SAF) as the most direct way to make substantial reductions in net carbon emissions from aviation today." Hydrogen is seen as a long-term solution.
Similar opinions were voiced by CEO David Calhoun during the Bernstein conference in June, while vice president and general manager of Product Development, Mike Sinnett, told Reuters in early July: "We are not pooh-poohing it (hydrogen). We have done a lot of work on hydrogen, but we don't want to artificially create an expectation that this is the answer when we're not convinced that it is."
Boeing has tested hydrogen for fifteen years
The Sustainability Report notes that Boeing tested a converted Diamond DA-20 using hydrogen fuel cells back in 2009, regenerative hydrogen fuel cell technology on the auxiliary power unit on the 737-800 ecoDemonstrator in 2012, and did over 100 flights in Spain in 2015 with an unmanned demonstrator using green hydrogen fuel cells.

"Boeing has researched hydrogen, green hydrogen, and fuel cell applications for over fifteen years, including five demonstration projects and significant space-based experiences. The insights gained through our flight demonstration programs with hydrogen fuel cells and combustion engines are informing future studies on scaled systems, configurations and infrastructure", says Chris Raymond.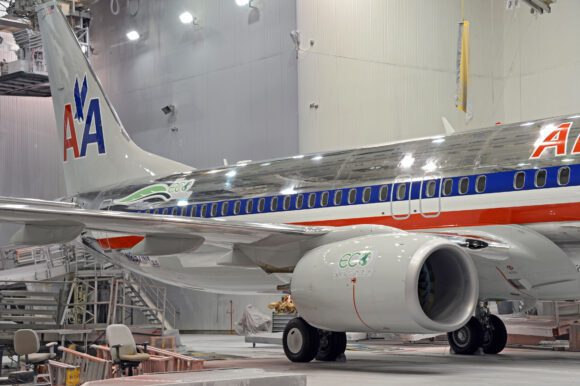 The American Airlines 737-800 ecoDemonstrator tested hydrogen fuel cell technology on the APU. (Boeing)
The aviation industry and especially IATA has been pushing for more government support for the production of SAFs as current volumes are only marginal. Boeing agrees and says government support and policy incentives for the private sector are critical. Raymond: "More specifically, developing regulatory and financial incentives for the investment, research, development, deployment, and distribution of SAF should be a priority. Such an incentive-based approach would enable airlines to make purchase commitments at prices equivalent to conventional fuel and create stable market demand as the industry continues to innovate and scale. In addition, a holistic framework unique to aviation that increases supply growth and stimulates technology development should complement such incentive mechanisms. Finally, de-risking project capital for pioneer and early-stage facilities is also crucial for ensuring that more SAF technologies reach commercial scale."
Raymond pictures a future in which on the short to medium-term SAFs are dominant while at the same time electric aviation is advancing through projects like the Wisk Cora two-seater eVTOL, with which Boeing has a joint-venture partnership.
"We believe the next generation of aircraft will incorporate the latest airframe, propulsion, and systems technology, as well as various power and energy solutions for different market segments and aircraft sizes. Boeing has been partnering across the industry on concepts for advanced aircraft that can meet specific energy efficiency, environmental and operational goals in 2030 and beyond. For example, our Transonic Truss-Braced Wing (TTBW) concept, provides a nine percent improvement in fuel burn when compared to a cantilevered wing of the same technology level."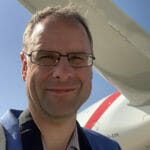 Active as a journalist since 1987, with a background in newspapers, magazines, and a regional news station, Richard has been covering commercial aviation on a freelance basis since late 2016.
Richard is contributing to AirInsight since December 2018. He also writes for Airliner World, Aviation News, Piloot & Vliegtuig, and Luchtvaartnieuws Magazine. Twitter: @rschuur_aero.