Patrick Baudis is Bombardier's VP Marketing.  He provided the following presentation today (AeroPerspectives 2017 – Markey Dynamics & Portfolio Strategy).
The slides that we would highlight are these:
This is a very interesting perspective.  These airlines are A320 and A319 operators.  And the images suggest a pretty obvious trend for these carriers. (Might we consider all three as Bombardier targets?)
Followed by this chart.
Boeing and Bombardier may be in a fight, but the logic clear.  Game changing is disruptive and the new generation is exactly that.  This chart fits rather nicely with our earlier story about the 787 and the C Series being somewhat alike. At least in the view of Air Canada.
Then, boom.
Well played Mr. Baudis! And then some more supportive evidence C Series Program Director, Istifan Ghanem.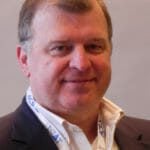 Co-Founder AirInsight. My previous life includes stints at Shell South Africa, CIC Research, and PA Consulting. Got bitten by the aviation bug and ended up an Avgeek. Then the data bug got me, making me a curious Avgeek seeking data-driven logic. Also, I appreciate conversations with smart people from whom I learn so much. Summary: I am very fortunate to work with and converse with great people.