The wing of the A220, nee Bombardier C Series, was honored as the recipient of the prestigious 2019 MacRobert Award from the Royal Academy of Engineering. This is the UKs most prestigious price for engineering innovation across a variety of industries. Previous award winning innovations include intelligent prosthetic limbs, the catalytic converter to reduce auto emissions, and the Pegasus jet engine that powered the VTOL Harrier "jump-jet," among others.
It is somewhat unusual that a wing is honored, given that wings tend to look quite similar in modern aircraft. But the wings of the A220 are radically different from conventional wings and required the adoption of an entirely new design and manufacturing process. The process for these wings is so different from conventional technology that Bombardier required a new purpose-built factory in Belfast to produce them.
The use of resin-transfer infusion ("RTI") is unique in its application. RTI involves placing dry carbon fiber into a mould, vacuum bagging it, and flooding it with liquid resin. That resin is then cured to a specific hardness through heat and pressure to produce a solid, fiber-reinforced part. The RTI process makes it possible to make a large, single-piece structure rather than assembling many smaller components. saving weight and improving aerodynamics by eliminating rivets and fasteners.
Gavin Campbell, Director of quality, airworthiness and technology strategy at Bombardier indicated that "Resin transfer infusion was the means to an end: the best way – indeed, probably the only way – of achieving what we wanted with this design."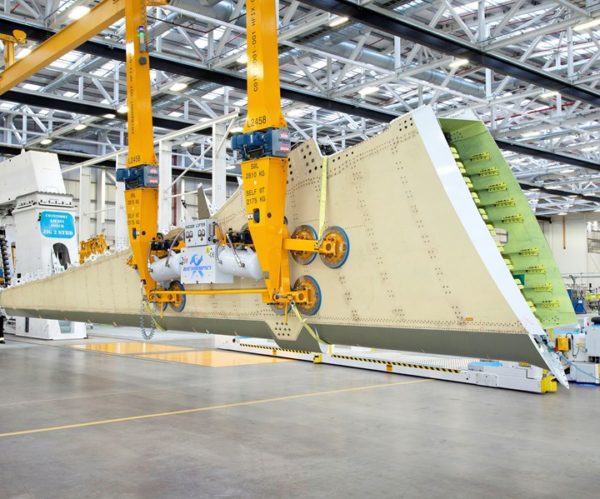 The RTI wing is 10% lighter than an aluminum wing, providing benefits in fuel burn, carbon emissions, lower scrap and lower use of energy during the manufacturing process than traditional methods for composite construction.
Mark Braniff, head of strategic technology, composite; David Patterson, engineering fellow, aerostructures; Trevor Poots, former chief manufacturing and tooling engineer; David Riordan, engineering fellow, engine nacelle design; and Sam Wilson, senior composites specialist comprized the nominated and winning team members.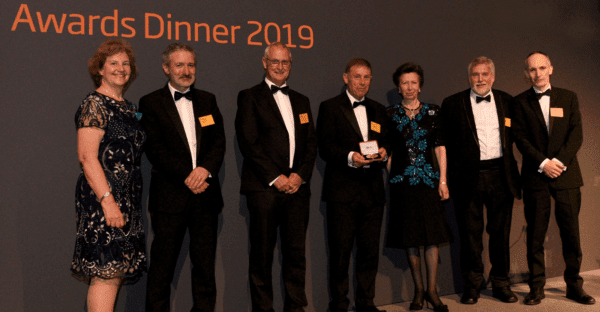 Academy President Professor Dame Ann Dowling (far left) and HRH The Princess Royal present the MacRobert Award to the Bombardier team: (L-R) Mark Braniff, Trevor Poots, David Patterson, Sam Wilson, David Riordan – photo credit – Royal Academy of Engineering
MacRobert Award judge Professor Ric Parker commented "the Belfast-developed resin-infused composite wing epitomizes the best in U.K. mechanical engineering, bringing together design, materials engineering, and manufacturing technology. It is a key enabling technology for the Airbus A220, creating a unique combination of range, fuel efficiency and environmental friendliness for an aircraft in this size range, and justifying its huge forward order book."