How far can it really go?  Bombardier specs say the CS300 can fly 3,300NM. That is a good distance for a small aircraft.  Right now BBA508, a CS300, is on its way from Wichita, Kansas to Keflavik in Iceland – non-stop.  The distance is 3,478NM.
Here we can see the flight approaching KEF.  There was no announcement of this flight. It is clearly a long leg stretch.  Even flying empty this is a long haul.  The aircraft left Wichita at 7:57 CST this morning.
The aircraft is apparently on its way to Riga for a show to launch customer airBaltic.  The CS300 has shown it has seven hours of flying time.
The flight landed at19:55 UTC, or 14:55 CST.  Well done!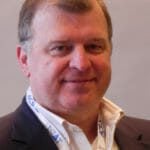 Co-Founder AirInsight. My previous life includes stints at Shell South Africa, CIC Research, and PA Consulting. Got bitten by the aviation bug and ended up an Avgeek. Then the data bug got me, making me a curious Avgeek seeking data-driven logic. Also, I appreciate conversations with smart people from whom I learn so much. Summary: I am very fortunate to work with and converse with great people.