The 1Q21 was rough for carriers like GOL and Azul Linhas Aereas. In the past weeks, Brazil airlines presented their financial results. They operated amid the second wave of COVID-19 infections throughout the South American giant, which crippled demand. Nevertheless, it seems like the worst is now behind and the Brazilian air transport industry is coming back. 
GOL Linhas Aereas and Azul Linhas Aereas, two of Brazil airlines have presented their financial results for 2021's first quarter. Meanwhile, LATAM Airlines Group still has to do it.  Both airlines had net losses during the quarter due to the impact of the COVID-19 pandemic and the start of the low season in the Southern hemisphere. GOL had an operating loss of 522.5 million reais (approximately US$100 million) The EBITDA for the airline was a loss of 72.1 million reais. Meanwhile, Azul had an operating loss of 214.1 million reais (~S$42 million). Unlike GOL, Azul had a positive EBITDA of 129.7 million reais. Additionally, Azul linked back-to-back positive EBITDA. 
Azul's CEO, John Rodgerson, said the following about the travel environment in Brazil during the quarter, "Brazil was clearly impacted by the second wave of the COVID-19 pandemic. Daily case counts showed a steady increase, resulting in restrictive measures around the country in March. As a result, demand dropped."
Between both Brazilian airlines, they carried 9.7 million passengers. For GOL, this total means a 46% year-on-year reduction. For Azul, it's a 24.6% drop compared to 2020's first quarter. 
Fares and yields for Brazil's airlines
The average fare for Brazilian airlines continues to drop, according to data provided by the Civil Aviation National Authority (ANAC). By February 2021, the average fare of the 52 main routes in Brazil was 280.73 reais (US$54). This number is the lowest since ANAC started tracking the price of air tickets in 2002.  Azul's average fare was 304.3 reais, according to its first-quarter results. That's a 24.6% decrease compared to the average price one year ago. Meanwhile, GOL doesn't provide that information. But, according to ANAC, GOL's average fare was 265.66 reais by February. GOL's net yield in reais cents was 25.33, a 14.3% drop on a year-to-year comparison. Azul's yields were slightly higher at 29.15 cents (and a 17.1% drop compared to 2020's 1Q). 
Is there a recovery on the horizon?
Airlines in Brazil are hoping for a recovery later in the year. According to Azul, more than 50 million COVID-19 doses have been applied throughout the country. This means the second wave may be already fading away.  Both airlines pointed out the fact that booking trends are going up in the last few weeks. Azul said, "Brazil has been clearly impacted, but it continues to make progress on the vaccine rollout. Several cities and states are exiting lockdowns, which has already positively affected recent booking trends. In the last four weeks alone, bookings are up more than 40%, and we expect this trend to accelerate with further vaccine progress."
Meanwhile, GOL said, "After the 1Q21 drop in demand, the Company is already observing signs of recovery. The third week of April had sales 4% higher compared to the same period in March 2021. The rollout of Brazil's National Program for Immunization will also have a positive impact on the normalization of markets, as seen in North America and Europe. GOL is planning to have 4x to 5x more takeoffs in 2Q21 when compared to the same period last year."
For the second quarter, GOL will operate between 185 to 200 flights per day, using 47 aircraft. Meanwhile, Azul's capacity is already up compared to the pre-pandemic levels. In the first quarter, domestic ASKs increased 8.9% compared to 1Q19. Azul believes its network, fleet flexibility, and strong demand in their markets have allowed them to do that.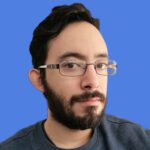 Daniel Martínez Garbuno is a Mexican journalist. He has specialized in the air industry working mainly for A21, a Mexican media outlet focused entirely on the aviation world. He has also published on other sites like Simple Flying, Roads & Kingdoms, Proceso, El Economista, Buzos de la Noticia, Contenido, and Notimex.