How's the Brazilian recovery from COVID-19 going?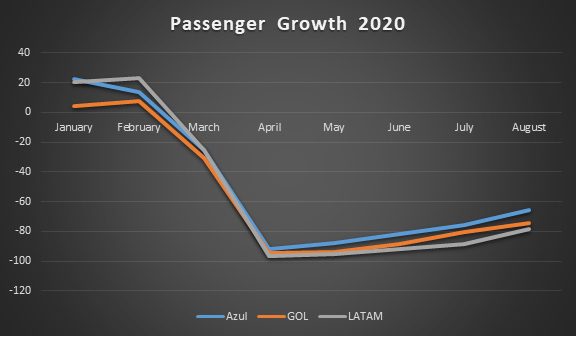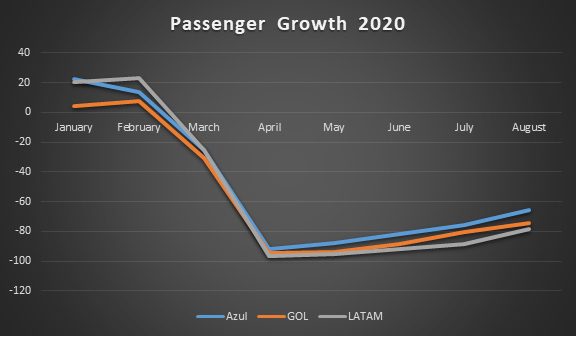 Brazil is the largest aviation market in Latin America. In 2019, it handled over 213 million passengers, double the second-largest market in the region, Mexico.
Currently, Brazil has over 5 million COVID-19 cases, being the third worldwide with the most reported infections. Despite that, it is one of the air markets that is having a good recovery.
So far, between the three leading airlines in Brazil: Azul, GOL, and LATAM transported 56.8 million passengers, a 56% decrease compared with last year. Let's analyze each carrier.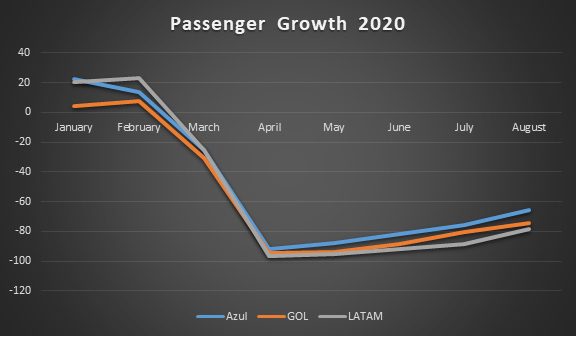 Azul Linhas Aereas
Of the three leading airlines in Brazil, Azul Linhas Aereas is bouncing the best from the current pandemic. According to data from the Brazilian Transportation Agency (ANAC), in August, Azul transported 34.2% of passengers in the market. The lowest point for Azul was April when its passenger numbers were down 91.8%. By August, Azul had seen a 50.4% decrease in the total number of passengers transported in 2020. 
Azul transported 16.8 million passengers so far in 2020, a 50.4% decrease from last year. In September, Azul's capacity was 42% of the same period last year, and in October, it expects to reach approximately 55% of pre-COVID capacity, said the airline in a statement. 
The low-cost carrier has taken an interesting approach to the pandemic. Azul has deferred the reception of new aircraft after 2024 while also launching a new regional airline, Azul Conecta, to help it in the local market. Financially it reduced expenses and hopes to burn less than $450,00 a day during the last quarter of 2020. 
GOL Linhas Aereas
GOL Linhas Aereas during the first two months of 2020 the worst decrease in passengers transported. It lost 30.9% of its passengers in March, while Azul and LATAM Brazil were at -26.5% and 25.4%, respectively. 
According to ANAC, GOL had a decrease of 74.2% in the number of passengers transported in August. For September, according to the airline, it operated an average of 270 flights per day. Currently, GOL has transported 20.3 million passengers, a 55.7% decrease from last year. 
Financially, the Brazilian LLC had some setbacks. First, it faced some backlash after firing its external auditor. It had to pay a $300 million loan plus accrued interest, which hit the pockets of GOL. The carrier ended up the third-quarter with $391 million of liquidity in cash and receivables. 
LATAM Brazil
This airline has had the worst recovery among the three in Brazil. Maybe it is due to its current Chapter 11 reorganization, or perhaps because LATAM's Brazil is mostly an international carrier.  As of August 2020, it had a 78.3% decrease in its passenger numbers. 
By the number of ASKs offered throughout the year, LATAM has a 35.51% domestic market share versus the 37.34% of GOL and the 26.51% of Azul. Internationally, it is the powerhouse in Brazil with a 66.62% market share versus 19.79% of Azul and 13.56% of GOL. 
So far, LATAM Brazil has transported 19.6 million passengers, a 54.4% decrease compared to last year.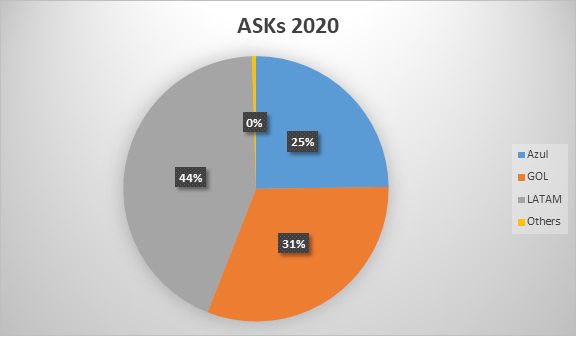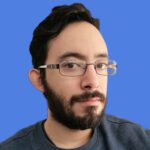 Daniel Martínez Garbuno is a Mexican journalist. He has specialized in the air industry working mainly for A21, a Mexican media outlet focused entirely on the aviation world. He has also published on other sites like Simple Flying, Roads & Kingdoms, Proceso, El Economista, Buzos de la Noticia, Contenido, and Notimex.