We are seeing a slow air travel recovery in the United States, so how is our Northerly neighbor doing?
Like every other air travel market, 2020 has been awful.  Canada has not been spared from the pandemic devastation of its air travel market.  The latest data we have is through August 2020.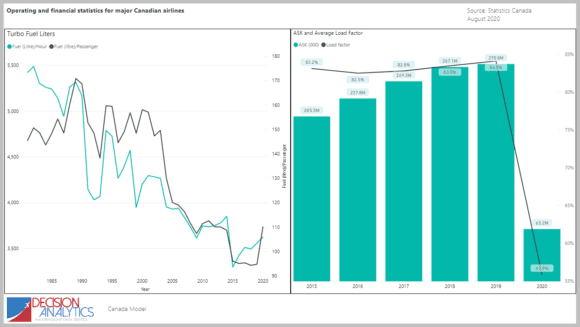 The left chart illustrates how Canadian airline fuel consumption saw steady improvements on a per flight hour basis from 1985.  From about 2000, the fuel consumption per passenger also saw a sharp improvement.  But in 2020 we see a reversal in fuel burn per passenger as load factors declined.
The right-hand chart clearly shows the waterfall traffic dropoff in 2020.  The load factor is down by 34%.  Which is probably not as bad as one might have expected.  Reduced schedules clearly help to ameliorate that. August 2019 compared to August 2020, traffic declined by nearly 87%. After years of steady traffic growth, this has been as much of a shock to Canada's airlines as in every other market.
If there's a silver lining in the market, the pandemic has made Air Canada's decision to buy Air Transat an even better idea.  Like all deals made before the pandemic, re-pricing is in order.  However, air travel will recover even if it takes two more years.  By then Air Canada will have access to a very useful fleet of A321LRs, 15 of which are on order.  This aircraft will prove to be highly effective as international markets reopen.  It has a Trans-Atlantic range and a smaller capacity, with associated lower costs than a widebody.  Air Canada could be in a good position to exploit re-opening markets between North America and Europe.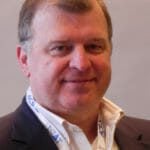 Co-Founder AirInsight. My previous life includes stints at Shell South Africa, CIC Research, and PA Consulting. Got bitten by the aviation bug and ended up an Avgeek. Then the data bug got me, making me a curious Avgeek seeking data-driven logic. Also, I appreciate conversations with smart people from whom I learn so much. Summary: I am very fortunate to work with and converse with great people.