Canada's WestJet builds a dedicated cargo fleet. The airline plans to operate four converted Boeing 737-800BCFs. The first is to arrive in February 2022 and enter service in the second quarter, with three additional aircraft expected before the summer. More BCFs are likely.
The Calgary-based airline has used belly hold capacity for its cargo operations over the past 25 years. The pandemic has proved that the market wants a reliable cargo service network within Canada that can operate independently of any travel restrictions on passenger services, as has been the case for most of the year since March 2020.
A dedicated cargo fleet "will provide cargo customers with the reliable on-time performance and competitive cost advantage synonymous with WestJet," said Charles Duncan, WestJet's Executive Vice-President for cargo. At first, the carrier plans to offer domestic cargo services but this to be followed by transborder routes to the US once the fleet has grown.
WestJet will source the aircraft from its own fleet. The carrier has 39 owned and leased 737-800s, of which 26 are currently parked. The oldest are leased -800s from 2005, the newest was delivered in November 2017. Converting the aircraft into an -800BCF with a big forward door offers space on the main deck for up to twelve pallets, plus the usual belly-hold capacity. The main deck volume is 141.5 cubic meters, lower deck volume 43.7 cubic meters. The total capacity is 24.040 kilograms.
WestJet has resumed passenger services earlier this month, including services on ten new domestic routes in Western Canada that start from today and over the next few days. In July, flights from Calgary and Toronto to London Gatwick will be back on the network while from August 5 Calgary-Amsterdam will be added.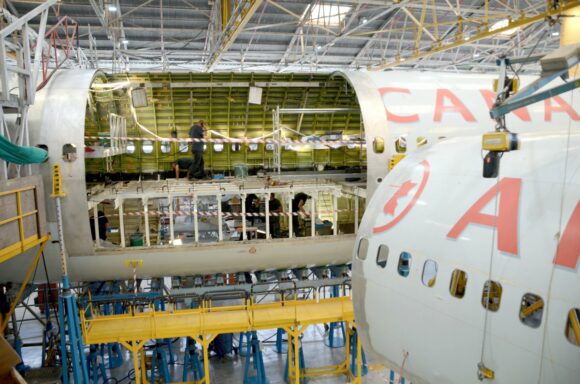 Air Canada's first converted Boeing 767-300ER is work in progress. (Air Canada)
WestJet's announcement came on the same day that Air Canada shared pictures of the conversion of one of its Boeing 767s into a full freighter, with the main door opening cut out. Air Canada also plans to grow a fleet of dedicated freighters based on 767-300ERs that have been retired from passenger service. Two aircraft will be completed for entry into service this year, with more to follow next year.
The full freighters will be based at Toronto Pearson and operate in Miami, Quito, Lima, Mexico City, and Guadalajara (Mexico). In 2022, Halifax, St. John's, Madrid, and Frankfurt will be added to the cargo network.

In 2020, Air Canada's cargo revenues grew to CS$920 million from 717 million in 2019, a slight compensation for the drastic loss in passenger revenues caused by the Covid-crisis. Most cargo revenues were earned on the Atlantic (CS$387 million) and Pacific (354 million) network, with Canada and transborder routes producing lower results compared to 2019. Domestic revenues were CS$90 million, down from 113 million in 2019. The carrier operated more than 9.000 cargo-only flights with modified Airbus A330s and Boeing 777s.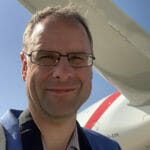 Active as a journalist since 1987, with a background in newspapers, magazines, and a regional news station, Richard has been covering commercial aviation on a freelance basis since late 2016.
Richard is contributing to AirInsight since December 2018. He also writes for Airliner World, Aviation News, Piloot & Vliegtuig, and Luchtvaartnieuws Magazine. Twitter: @rschuur_aero.