Despite higher than anticipated cost reductions, All Nippon Airways (ANA) has been unable to compensate for the "extremely large reduction in operating revenues" it endured in 2020. The Japanese airline suffered a net loss of  ¥-451.3 billion compared to ¥59.3 billion profit the previous year, it announced on April 30. The loss attributable to shareholders is ¥-404.6 billion. Cargo saved the day for ANA.
The operating loss was ¥-464.7 billion versus a ¥60.8 billion profit in 2019, with revenues down by 63 percent to ¥728.7 billion. The reduced costs by ¥590 billion or 32 billion more than announced last January, including fixed and variable expenses as the airline adapted to the changing market circumstances. ANA's financial year runs from March to March. In February, it reported a ¥-312 billion third-quarter loss.
Domestic capacity was back to 61.4 percent in the October-December quarter, but demand decreased as new cases of Covid hit Japan in February. This had an impact on passenger numbers, which were down by 70.5 percent to 12.6 million and revenues down by 70.1 percent to ¥203.1 billion.
Only 450.000 international passengers carried
International traffic was severely hit by travel restrictions, with passenger numbers down by 95.5 percent to just 450.000 and revenues at -92.7 percent to ¥44.7 billion. To compensate for the lost income, ANA actively drew in on getting extra cargo revenues and this clearly was successful and saved the day: despite 24.4 percent lower volumes, higher yields pushed revenues up by 56.3 percent to ¥160.5 billion. It operated both full freighters and passenger aircraft on routes from Narita to Shenzhen, Frankfurt, and Bangkok, plus Haneda to San Francisco.
The lockdown in Japan not only impacted ANA's own domestic operations, but also those of low-cost subsidiary Peach. Passenger numbers were down by 71.4 percent to just two million, with revenues at -73.1 percent to ¥22 billion. Its third-quarter to December was the best, with capacity at 132.2 percent compared to 2019 levels before a decline set in following after new infections.
Fleet renewal continues as old aircraft are retired
ANA's results include an ¥86.3 billion special loss related to structural business reform expenses and impairment on 28 aircraft. The carrier retired 32 aircraft in ten Boeing 777-300s, four 777-200s, three 767-300s, five 737-700s, and ten Airbus A320-200s.
While deliveries of some new aircraft have been deferred, ANA plans to take delivery this year of twenty airliners, including eight 787-9s (the first with General Electric GEnx), five A321neo's, the first A321LR, four A320neo's and the third and final (orange) A380, which contractually has been delivered on October 30 last year but still is in Toulouse.
By the end of FY21, ANA's fleet should include 236 aircraft and that of Peach 35. The combined 271 is only slightly below last year's 274, before growing to 275-280 in FY22.
For FY21, the strategy largely remains unchanged. Cargo with 777Fs will have to make up for lost passenger revenues until markets reopen and restrictions are lifted, but international traffic is expected to remain weak until 2023 so capacity will be added on a step-by-step approach. Domestic should see a full recovery to 2019 levels by the end of FY21.

Peach will see the opening of new routes and increased frequencies as Japan gets more and more vaccinated and demand will improve. ANA counts on a very small, ¥5 billion profit and  ¥1.380 billion in revenues for the new fiscal year. The Group has planned for ¥300 billion in additional cost reductions.
Looking further ahead, ANA still plans to launch its third, low-cost brand, but this has slipped to late 2022 or early 2023.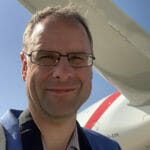 Active as a journalist since 1987, with a background in newspapers, magazines, and a regional news station, Richard has been covering commercial aviation on a freelance basis since late 2016.
Richard is contributing to AirInsight since December 2018. He also writes for Airliner World, Aviation News, Piloot & Vliegtuig, and Luchtvaartnieuws Magazine. Twitter: @rschuur_aero.