Cathay Pacific will take most of this year to build back capacity to seventy percent of pre-Covid levels by the end of 2023 and return to pre-pandemic levels in 2024. It will do this through a "measured and responsible approach" as it, like many competitors, is confronted with operational and staffing issues, Chairman Patrick Healy said today in the 2022 earnings release. Cathay Pacific focuses on gradually building back capacity.
In line with its January guidance, Cathay Pacific Group ended 2022 with an HK$-6.548 billion loss attributable to shareholders, up from HK$-5.527 billion in 2021, but this negative result was mainly caused by associates. HK Express reported an HK$-1.359 billion net loss and other business units also were loss-making, although cargo subsidiary Air Hong Kong produced a HK$776 million profit. Overall, the Group reported an HK$-4.999 billion loss in HY1 and an HK$-1.549 billion loss in HY2. Revenues totaled HK$51.036 billion compared to HK$45.587 billion in 2021. Despite higher fuel costs, total operating expenses of HK$47.5 billion were not that much higher compared to HK$46 billion the year before.
Cathay has come a long way after a difficult year. The airlines and subsidiaries produced a HK$2.261 billion profit in HY2 and contributed to the full result with HK$255 million thanks to a strong second half of the year. 2022 started badly, as Cathay was confronted with strict Covid-rules from the Hong Kong SAR Government that included quarantine measures for incoming travelers as well as its crew. International flights to many destinations were forbidden. The low point was March 12, when the airline carried just 58 passengers.
From April, international services were slowly starting up again, followed in May by the lifting of more restrictions. This resulted in pent-up demand during the summer period, which got another boost in September when all quarantine measures were lifted in Hong Kong. The same happened in mainland China in December, but this came too late to contribute to the 2022 results.
Rebuilding the network
Cathay Pacific Group airlines carried 2.8 million passengers last year, up from 717.000 in 2021. The load factor was 73.6 percent from 31.1 percent. The parent airline added capacity on six routes to North America (41 percent to 6.7 million available seat kilometers) and saw strong demand in the second half from transit traffic from Southeast Asia via Hong Kong to the US. Europe also performed well (+83.3 percent capacity) as routes to Madrid, Milan, and Zurich were reinstated to bring the total to nine destinations. Europe reported the highest load factors at 85.1 percent. Transit traffic from Australia to the UK via Hong Kong proved to be popular.
North Asia including Mainland China saw a capacity increase of 101.1 percent and a recovery to twenty destinations. The reopening of South Korea and Japan resulted in strong demand, which led to the addition of substantial flight sectors. Just to Tokyo Haneda, 140.000 seats were added in the last two months of the year to cope with demand. Southeast Asia was rebuilt to twelve destinations, the Southwest Pacific to five, and South Asia, the Middle East, and Africa to six destinations.
Cargo remained key to Cathay and generated HK$ 30.6 billion in revenues compared to HK$35.8 billion in 2021. At 1.154K tonnes, the amount of cargo was down from 1.333K tonnes in the previous year, but yields were higher at HK$4.67 compared to HK$ 3.94. Capacity was down nineteen percent year on year, which is the result of the strict quarantine measures in HY1 for which there was no exemption for cargo operations.
Cathay Pacific Group ended the year with HK$27.2 billion in liquidity, with net borrowings including lease liabilities of HK$58.8 billion.
Greater Bay Area
"After three years of unprecedented disruption due to the COVID-19 pandemic, we are pleased to now be at the stage where we are rebuilding a new Cathay Pacific which Hong Kong can be proud of. We have a crystal clear strategy that we are confident will deliver long-term success," Chairman Patrick Healy says. "To achieve this, we are focused on reconnecting. This means reconnecting Cathay Pacific with Hong Kong, the Greater Bay Area (GBA) and the Chinese Mainland, as well as reconnecting Hong Kong with the world."
The Greater Bay Area, which stretches from Hong Kong North to Guangzhou, is seen as a region of great potential but also growing competition from Chinese carriers. Start-up Greater Bay Airlines announced an order for fifteen Boeing MAX 9s last Friday plus its intention to purchase five 787s as it wants to grow. Both GBA and Cathay Pacific see great opportunities when Hong Kong International Airport gets a third runway, which will be fully operational in 2025. "Our goal in the GBA is to become the preferred choice for both premium and low-cost international travel to and from the region. Central to our strategy is offering customers a seamless, hassle-free and differentiated cross-border connecting experience between cities in the GBA and Hong Kong International Airport (HKIA)," says Healy. Cathay opened an office in Shenzhen last July to increase its presence in the GBA region.
Cathay intends to capture market share through an updated strategy. It wants to be one of the best premium airlines, be the best-practice low-cost airline in Asia, retain its strong position in the cargo markets, and inspire customers with a premium lifestyle through Holidays, Payment, Wellness, Shopping, and Dining.
Fleet
The group had a fleet of 222 aircraft by the end of December. Cathay Pacific had 181 aircraft and re-activated 24 aircraft from storage outside Hong Kong with 41 more out there. The airline expects to take delivery of nine Airbus A321neo's this year and in 2024, of which two have been delivered in February. It will also take two more A350-900s this year. Deliveries of the 21 Boeing 777-9s are listed from 2025 and beyond.
HK Express operated 26 aircraft and will take four A321neo's this year, eight in 2024, and another four from 2025. Air Hong Kong operates an all-freighter fleet of fifteen aircraft.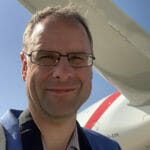 Active as a journalist since 1987, with a background in newspapers, magazines, and a regional news station, Richard has been covering commercial aviation on a freelance basis since late 2016.
Richard is contributing to AirInsight since December 2018. He also writes for Airliner World, Aviation News, Piloot & Vliegtuig, and Luchtvaartnieuws Magazine. Twitter: @rschuur_aero.