The attempt of the US Department of Justice (DOJ) to block the proposed merger of JetBlue and Spirit Airlines by filing a civil antitrust lawsuit opens up a whole new chapter in the battle for Spirit. Let's have a look at what the parties say.
The Department of Justice:
The DoJ, together with the Attorneys General of the Commonwealth of Massachusetts, the State of New York, and the District of Columbia, filed the civil antitrust lawsuit in the District of Massachusetts. The complaint, which seeks to block the acquisition under Section 7 of the Clayton Act, alleges that a merger would mean an end to the 'Spirit effect' of a low-cost, no-frills airline that offers lower fares and more options to routes across the US.
As Attorney General Merrick B. Garland says in a media statement: "As our complaint alleges, the merger of JetBlue and Spirit would result in higher fares and fewer choices for tens of millions of travelers, with the greatest impact felt by those who rely on what are known as ultra-low-cost carriers in order to fly. Companies in every industry should understand by now that this Justice Department will not hesitate to enforce our antitrust laws and protect American consumers."
"JetBlue's proposed acquisition of Spirit eliminates a disruptive, low-cost option for millions of Americans. Whether they fly Spirit or not, travelers throughout the United States benefit from an independent Spirit because where Spirit competes, other airlines – including JetBlue – are forced to compete more vigorously by lowering fares, offering greater innovations, and delivering more consumer choice," said Principal Deputy Assistant Attorney General Doha Mekki of the Justice Department's Antitrust Division.
The DoT complaint says that Spirit has been "a particularly disruptive force, growing rapidly, introducing innovative products, and allowing customers to choose which services to purchase, all while charging customers very low fares. Spirit has forced larger airlines, particularly the already-low-cost JetBlue, to compete for customers by introducing unbundled, customizable ticket options and lowering their own fares, allowing more Americans to travel. If the acquisition is allowed to proceed, prices would increase on routes where the two airlines currently compete. This is particularly the case on the over 40 direct routes where the two companies' combined market shares are so high that the deal is presumptively anticompetitive. If allowed to eliminate the Spirit option, JetBlue would likely increase prices on every route where Spirit flies today."
The DoT also states that a merger would "make it easier for the remaining airlines to coordinate to charge travelers higher fares or limit capacity. JetBlue has already partnered with American Airlines, the largest airline in the world, through the Northeast Alliance, which the Department sued to block. Now, JetBlue is doubling down on consolidation, seeking to acquire and eliminate its main ultra-low-cost competitor, depriving travelers of yet another choice."
JetBlue and Spirit Airlines:
The proposed merger got support from a clear majority of Spirit's stockholders in October. The two airlines responded with a media statement, claiming that the DoT is seeing it all wrong. As JetBlue CEO Robin Hayes says: "We believe the DOJ has got it wrong on the law here and misses the point that this merger will create a national low-fare, a high-quality competitor to the Big Four carriers which – thanks to their own DOJ-approved mergers – control about 80 percent of the US market. There is too much at stake for the DOJ to prevent us from bringing the JetBlue difference to more customers in more markets."
Spirit CEO Ted Christie said: "We disagree with the DOJ's decision to seek to block the proposed merger, which will benefit consumers and employees. We will vigorously defend our position that a combined JetBlue and Spirit will be a game changer for customers nationwide, creating the most compelling national low-fare challenger to the dominant U.S. carriers. Together, we intend to democratize flying for travelers across the country – a goal we believe is worthy of the government's support."
The two CEOs note that their merger has the backing of the State of Florida, where Spirit is based. "We are extremely pleased to secure a settlement with the State of Florida supporting the merger between JetBlue and Spirit. The agreement ensures that the merger will deliver new jobs in Florida as JetBlue adds its low-fare flights in airports across the state. The combined JetBlue and Spirit will increase seat capacity by at least 50 percent in both Fort Lauderdale and Orlando and will increase its aggregate seat capacity at all other Florida airports in which JetBlue or Spirit currently operate by at least 50 percent."
Not only will the merger bring hundreds of new daily flights to Florida, but also at least 1.000 new JetBlue jobs in South Florida, 500 jobs in the Orlando region, and at least 500 new jobs to support JetBlue's expanded operations at airports throughout Florida. There will be no furloughing of staff and JetBlue will maintain all of Spirits maintenance and other facilities in the state.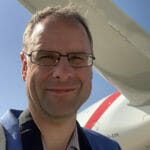 Active as a journalist since 1987, with a background in newspapers, magazines, and a regional news station, Richard has been covering commercial aviation on a freelance basis since late 2016.
Richard is contributing to AirInsight since December 2018. He also writes for Airliner World, Aviation News, Piloot & Vliegtuig, and Luchtvaartnieuws Magazine. Twitter: @rschuur_aero.