Europe has been one of the continents where the pandemic has a prolonged effect on air travel. Whereas there has been a rebound in domestic travel in the US, Europe is dominated by continued restrictions as various countries suffer from fourth or even fifth Covid waves. This has had a deep effect on the January-March 2021 results. 
In a rolling story that will be continuously updated, we look at Europe's Q1 results. Today: cost reductions dampen losses Lufthansa.
Lufthansa (April 29):
Significant cost savings and fixed cost reductions helped Lufthansa to reduce its operating losses in Q1. On April 29, the airline reported a net loss of EUR -1.049 billion compared to EUR -2.124 billion in the same period last year. The operating loss or Adjusted EBIT was EUR 1.143 billion, an improvement of six percent.
The numbers can't hide that Q1 was another weak quarter, with revenues down by sixty percent from EUR 6.441 billion to EUR 2.560 billion. Traffic revenues fell by even 66 percent to EUR 1.542 billion. Capacity was down by 21 percent compared to 2019 levels. The exception was Lufthansa Cargo, which despite 22 percent lower capacity produced a record quarter with revenues up by 45 percent to EUR 802 million.
Lufthansa Technik was hit by a significant drop in MRO activities, which cut revenues by 48 percent to EUR 829 million.
By airline, Lufthansa's Adjusted EBIT was at -44 percent to EUR -875 million, with revenues at -79 percent to EUR 550 million. At SWISS, the Adjusted EBIT was down by even -157 percent to EUR -211 million, with revenues of EUR 270 million. Austrian Airlines produced an Adjusted EBIT of -106 million, or 22 percent lower, with revenues at -79 percent of EUR 61 million. Austrian's passenger numbers were down by 84 percent.
Brussels Airlines produced a nine percent lower Adjusted EBIT at EUR -70 million and EUR 55 million in revenues. Eurowingshad an Adjusted EBIT of EUR -144 million, minus eighteen percent. At EUR 39 million (-88 percent), the fall in revenues was compensated by cost reductions.
Share issue should generate EUR 5.5 billion
Lufthansa burned EUR 235 million per month in Q1, which was better than the projected EUR 300 million. In Q2, cash burn should drop to EUR 200 million per month. Net cash flow win the first quarter as EUR -947 million.
Liquidity stands at EUR 10.5 billion. Of EUR 6.8 billion provided by the government as stabilization measures and loans, only EUR 2.3 billion was drawn and one billion has already been repaid.
The carrier raised EUR 1.6 billion in bonds and EUR 590 million in notes to compensate for the negative free cash flow and refinanced EUR 1.7 billion in liabilities. It secured a loan against four aircraft for EUR 240 million. Net debt grew from EUR 9.9 billion to EUR 10.9 billion.
During the Annual General Meeting on May 4, the Board will seek approval from shareholders for the issuance of 2.1 million shares valued at EUR 5.5 billion, with the aim of making flexible use of financing opportunities and raise new equity on the markets. This should replace state funded loans with long-term commercial debt and equity and strengthen the balance sheet. The timing of the possible capital increase has not been decided yet and depends on capital requirements and the development of the crisis.
Headcount measures continue
Lufthansa Group has been able to dampen losses thanks to headcount measures. Over the past twelve months, 24.000 FTE's or 25.700 employees have left the airline group, of which 8.000 FTE in Germany. This has saved EUR 1.2 billion in structural costs so far.
Another 10.000 positions will be reduced to meet EUR 3.0 billion cost savings that have been targeted before. A new voluntary leave program has been offered recently to ground staff and employees at Lufthansa Technik. An offer to cabin staff will follow soon, CEO Carsten Spohr said.
At SWISS, 800 staff left this quarter through natural fluctuations and early retirement. A more radical reduction plan is prepared for presentation in June. Austrian, too, has announced further job reductions.
Lufthansa and Eurowings can benefit from short-time work packages until the end of Q4 but they need to conclude new agreements with unions in the coming months to prevent involuntary severances. "We need agreements that go beyond the crisis packages to avoid redundancies after short-time working arrangements end at the beginning of 2022. We are aware of our major joint responsibility with the social partners: We must secure the future viability of our entire company so that we can also secure the future viability of the remaining 100,000 jobs", Spohr says in his speech that has been published ahead of the AGM.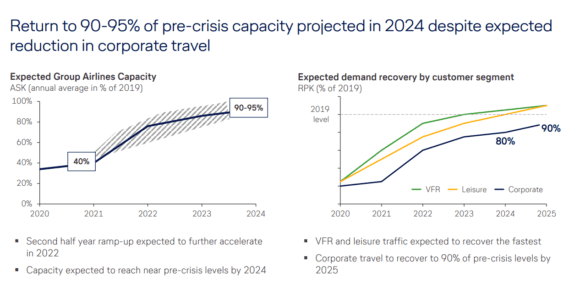 Traffic forecast for 2021 and the coming years. (Lufthansa)
The German carrier revised down its capacity outlook for the rest of 2021. With vaccinations being very fluctual especially in Europe, it expects to operate at only 40 percent capacity now compared to the previously announced 40-50 percent. The Group's airlines are ready to up capacity to 70 percent in the short term if needed, but CFO Remco van Steenbergen said this number is more realistic for 2022. In 2023, capacity should be at 80 percent and in 2024 back to pre-crisis levels. This is for leisure, as business travel will lag behind and reach 80 percent only in 2024.
In response, Lufthansa has taken out a lot of business seats by retiring or placing in deep storage its Boeing 747-400s, Airbus 340-600s, and A380s. If needed, it can easily reconfigure cabins on its A350s to offer more Premium Economy seats.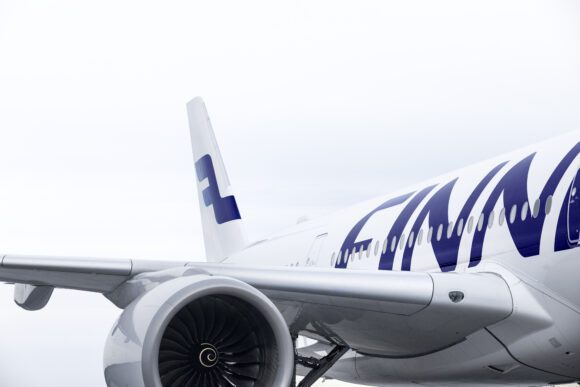 Finnair (April 27):
Finnair's Q1 results and outlook for Q2 say it all: they were as somber as those in the last quarter of 2020 and in Q2 will continue to be as somber as in the first three months. This confirms the difficult situation Europe finds itself in, a year after it was confronted with the effects of Covid 19.
Finnair reported a EUR -145.4 million net loss compared to -142.6 million in the same quarter last year. The operating loss was EUR -149.1 million compared to -95.6 million. Total revenues were EUR 113.6 million versus 561.2 million. Passenger revenues were down by 89.8 percent to EUR 43.2 million as passengers carried were 90.2 percent lower.
Despite lower volumes, cargo revenues were 66.2 percent higher to EUR 60.9 million and contributed by over fifty percent to all revenues. Demand reached a record-high in March. The airline operated 547 cargo-only flights in Q1. In 2020, the airline lost EUR 523.2 million.
Finnair's loss and Europe's troubles are also reflected in the capacity: the carrier operated at just 12 percent capacity compared to Q1 last year. To Europe, it decreased by 86.6 percent and to its key markets in China, Korea, and Japan by 79.5 percent. The carrier has placed all its hopes on a recovery in Q3 and has announced the return to popular summer destinations in Greece, France, Spain, Italy, and Portugal from early June. By mid-June, services to Los Angeles and Chicago in the US and Asia should be restarted, the situation permitting. This should produce a positive EBITDA from the June quarter onwards.
The carrier bolstered its liquidity position to EUR 665.3 million, thanks to a EUR 350 million first tranche as part of a EUR 400 million hybrid loan from the Finnish government that was approved by the European Commission. The remaining EUR 50 million requires further EC approval. Once completed, Finnair can tap into a EUR 175 million revolving credit facility that is extra to EUR 200 million in unused commercial paper. Net debt increased to EUR 1.514 billion from 1.373 billion.
Finnair seeks EUR 30 in extra cost reductions
While it is on track to reduce costs by EUR 140 million in 2022, CEO Topi Manner said Finnair has increased the target for additional reductions to EUR 170 million. This is over double the original target announced in May last year (EUR 80 million compared to 2019 levels), which was upped in August to EUR 100 million and to EUR 140 million last October.

Reductions are sought in all categories but the Board will have a close look at streamlining its organization and operations as well as increasing automation of customer processes. Indefinite and temporary lay-offs will be inevitable, which will come on top of the 1.100 jobs that have been lost so far since early last year. Finnair has concluded agreements with a number of employee groups on permanent cost savings, including a new collective agreement with its pilots until September 30, 2024.
Looking for short-haul fleet options
No airline without a fleet. Finnair's fleet accounted for 59 network and 24 regional aircraft by the end of Q1, including 35 short-haul Airbus A320ceo-family aircraft. It has only three new planes on order, all Airbus A350-900s. As reported earlier, the carrier and Airbus have agreed to defer deliveries of the three to Q2 2022, Q4 2024, and Q1 2025 respectively.

While the ceo-fleet is up for replacement, a decision is not "actual for the next couple of years", CFO Mika Stirkkinen said. Pre-pandemic, Finnair had been seriously looking at the A320neo-family "and similar aircraft from other providers" but the time horizon has now slipped well into the future. In its Q1 report, the airline says "the company will, in particular, follow the rapidly evolving aircraft market when it plans its future fleet investments." What it means is that "there might be opportunities in the short-term lease market", Topi Manner explained to questions from Airinsight. "It might make more sense instead of doing a major overhaul to lease a new engine. We might end up leasing an aircraft or engine or buying them as we look at ways to optimize the cash flow."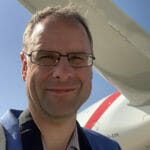 Active as a journalist since 1987, with a background in newspapers, magazines, and a regional news station, Richard has been covering commercial aviation on a freelance basis since late 2016.
Richard is contributing to AirInsight since December 2018. He also writes for Airliner World, Aviation News, Piloot & Vliegtuig, and Luchtvaartnieuws Magazine. Twitter: @rschuur_aero.