DeHavilland Canada offers Package Freighter Conversion Program for all Dash-8 models

DeHavilland Canada announced earlier this week that Transport Canada approved the conversion of Dash 8-100/200 and Dash 8-300 aircraft into simplified package freighters in response to the global COVID-19 pandemic.  This augments the earlier certification of a package freighter conversion for the Dash-8-400 last month, which can be retrofit or installed into new freighters at the factory.
748 Air Services (K) Limited, based in Nairobi, Kenya ordered the simplified package freighter conversion kits for their four Dash-8-100 aircraft as well as kits for their three Dash 8-400 aircraft.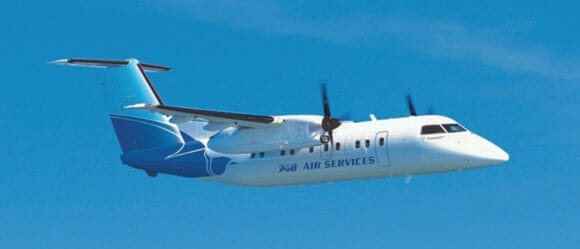 "We're delighted to announce 748 Air Services (K) Ltd as the first customer for the Dash 8-100 Simplified Package Freighter and thank them for their order which also includes conversion kits for their three Dash 8-400 aircraft. We commend them as they reconfigure some aircraft in their fleet to continue their excellent work delivering essential passenger and cargo services in the eastern and central regions of Africa," said Todd Young, Chief Operating Officer, De Havilland Canada. "De Havilland Canada continues to be highly focused on providing solutions to our operators as they seek mechanisms to redeploy their fleets in response to COVID-19. It is gratifying to know that we are succeeding in creating opportunities for our operators in these challenging times."
"The COVID-19 pandemic has presented us with many challenges including broad government mandates that restrict the movements of both passengers and cargo for an indefinite duration. The movement
has been limited to humanitarian cargo only. We have responded with Air Cargo solutions to support the humanitarian, natural resources and government sectors, who will benefit from the conversion of our four Dash 8-100 aircraft and three of our Dash 8-400 (Q400) aircraft into Simplified Package Freighters. We are extremely grateful to De Havilland Canada and Transport Canada for providing these solutions quickly," said Moses Mwangi, Managing Director, 748 Air Services (K) Ltd. 
The following chart shows the configuration of a Dash 8-400 simplified package freighter.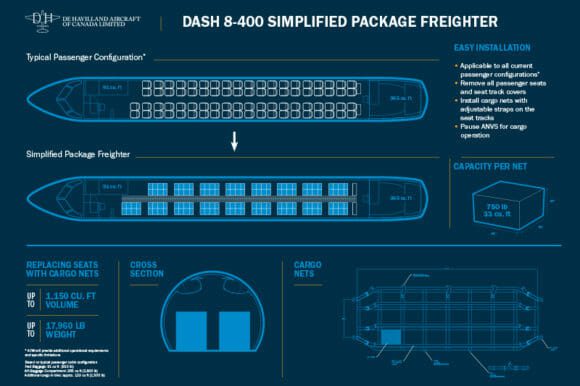 Approved by Transport Canada, De Havilland Canada's Service Bulletins allow Dash 8-100/200, Dash 8-300 and Dash 8-400 aircraft to be quickly converted into Simplified Package Freighters by the removal of seats and seat track covers in the passenger cabins. The converted Dash 8-100/200, Dash 8-300 and Dash 8-400 aircraft provide total potential cargo capacities of up to 6,500 lb, up to 9,625 lb, and up to 17,960 lb respectively.