On Sunday, prior to the official event opening, Embraer invited media attendees for a test flight.  The purpose was to see how quiet the cabin is (they claim the single-aisle quietest cabin) look at the large bins and also try seats which were spaced differently to enable airlines to test each variation of available seat pitch.
Some noticeable items: the engines took a while to spool up.  This is by now well known and expected.  The power on takeoff was noticeable – even if we were light.  The aircraft leaped off the runway as you will see in the video.  You will also note how quiet the cabin is as the aircraft climbed out from the runway.
After we had flown for about an hour, we were fortunate to be given a chance to sit in the jump seat for landing.  Like previous jump set rides, it was awesome.  The captain is an Embraer test pilot.  Notice his constant tweaks to the controls.  The flight became a bit bumpy as we made the final approach as it was a hot day.
What a thrill and an impressive aircraft.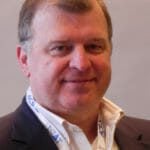 Co-Founder AirInsight. My previous life includes stints at Shell South Africa, CIC Research, and PA Consulting. Got bitten by the aviation bug and ended up an Avgeek. Then the data bug got me, making me a curious Avgeek seeking data-driven logic. Also, I appreciate conversations with smart people from whom I learn so much. Summary: I am very fortunate to work with and converse with great people.