Easyjet is seeking available airport slots in continental Europe as its business has shifted more towards Europe and away from the UK. The low-cost airline has already acquired slots at Milan Linate, Amsterdam Schiphol, and Paris Orly, but won't hesitate to act swiftly when attractive slots become available. 
Easyjet's business is usually split 50/50 between the UK and continental Europe, but this has shifted to two-thirds Europe now. CEO Johan Lundgren blames it on the divergence in government travel policies as Europe is confronted with the effects of the Delta-variant of the Covid-virus.
While the UK has re-opened on July 19 and lifted practically all restrictions, easyjet is seeing a shift away from the UK in the current fourth quarter of its FY21. Sixty percent of its bookings are for Europe, 13 percent for UK domestic flights, three percent to destinations on the UK's green list, 23 percent to amber destinations, and one percent to red list countries. The lack of transparency and ever-changing rules make planning most difficult. France, usually one of the favorite holiday destinations, only accounts for 2.5 percent of the summer schedule as the country has introduced strict rules from July 16.
New routes were added and capacity shifted
The carrier responded in June by launching 21 new routes to Europe, adding 286.000 seats. It has opened seasonal bases in Palma de Mallorca, Faro, and Malaga. Capacity has been shifted from the UK-Palma towards Berlin-Palma and from the UK to Switzerland (Geneva and Basel). More destinations in Portugal have been added out of Berlin as well as from Amsterdam. At Paris Charles de Gaulle, frequencies to Corsica have been increased. From Milan (Malpensa and Linate), services have been added to Sardinia and Sicily, while Naples is seeing more flights to Greece. The same applies to Stockholm and Copenhagen. So here is why easyjet is seeking available airport slots.
In the UK, easyjet has launched twelve domestic routes which partly fill the void left after the failure of regional airline Stobart Air in early June. Stobart operated on behalf of Aer Lingus and some routes left by them have also been taken over by easyjet. The airline added capacity (60.000 seats) on services from Belfast to Glasgow, Edinburgh, Birmingham, and Manchester. Belfast is currently one of the best performers on the network.
Q3 loss of 318.3 million
Easyjet reported a third-quarter headline loss before tax of £318.3 million compared to £-346.8 million in the same period last year. The loss is in line with predictions. Q3 revenues were £212.9 million compared to just £7.2 million last year when easyjet was grounded during the first wave of Covid. Passengers carried were 2.9 million at 66 percent load factor versus just 117.000 last year. Ancillary revenues continue to increase (to £61 million in Q3). Revenues per seat increased by 26.7 percent over Q2 to £45.89.
The airline further reduced its costs and is on target to deliver £500 million for FY21 of which half will be sustainable. There was a six percent aircraft reduction, resulting in a thirty percent reduction in crew FTE's. Part-time and seasonal staff have been contracted against lower conditions while the airline continues to furlough staff across Europe. Costs at engineering were also reduced. For FY22, more reductions are planned.

Headline costs in Q3 were £531.2 million versus £-354 million. Cash burn was reduced to £55 million per week or £34 million on average on a fixed costs basis plus CAPEX.
Net liquidity was unchanged at £2.9 billion including cash and cash equivalents and the undrawn part of the UKEF facility. Since the start of the pandemic, the carrier has raised £5.5 billion in liquidity. It continues to explore further funding opportunities. Net debt has remained unchanged at £2.0 billion.
Easyjet hasn't given any financial guidance on FY21 as short-term uncertainty continues. It expects to operate this quarter at sixty percent capacity compared to 2019, with 53 percent of European capacity now sold compared to 44 percent for UK-capacity. With last-minute bookings prevailing in the current market situation, this requires maximum flexibility to adjust capacity where it is needed the most.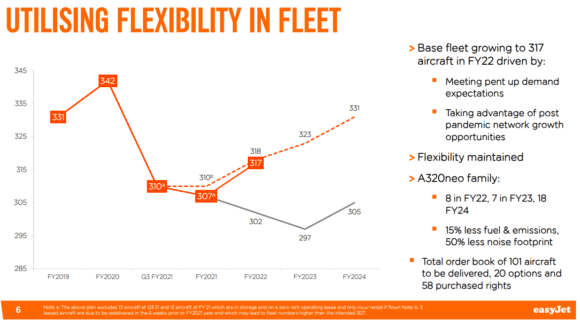 On the fleet, easyjet says it will resume deliveries of new Airbus aircraft again this autumn which coincides with the start of FY22. It will take eight neo's in the financial year 2022, seven in FY2023, and eighteen in FY24. This should bring the fleet to 317 aircraft in the summer of 2020.
The airline has the flexibility to adjust the numbers as 38 leased aircraft are ending their contracts over the next fifteen months. Leases of an unspecified number will be extended on what it calls very favorable conditions, while it has the option to retain more aircraft on advantageous terms.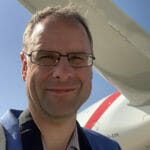 Active as a journalist since 1987, with a background in newspapers, magazines, and a regional news station, Richard has been covering commercial aviation on a freelance basis since late 2016.
Richard is contributing to AirInsight since December 2018. He also writes for Airliner World, Aviation News, Piloot & Vliegtuig, and Luchtvaartnieuws Magazine. Twitter: @rschuur_aero.