easyjet management seems to be the winner in an ugly row with founder Sir Helios Haji-Ioannou after it got the trust and support of a majority of its shareholders at the annual meeting on May 22. The fight centers around the order for 107 Airbus A320neo/A321neo's which according to Haji-Ioannou drains easyjets cash position and hurts its investment returns.
At the AGM in Hangar 89 at London's Luton Airport, four resultions to remove top management from their positions were opposed by 57.6 versus 42.4 percent of the shareholders. They include major investors in easyjet, Invesco, Ninety One UK, and Phoenix Asset Management. They all supported CEO Johan Lundgren, chairman Robert Barton and directors Andrew Findlay, and Andreas Bierwirth.
At the HY20 results presentation on April 16, Lundgren had explained that he sees no ability to cancel the order for 107 aircraft without having to compensate Airbus and expose the airline to other additional costs. Sir Helios Haji-Ioannou strongly opposed the purchase agreement as it would risk the financial stability of the airline. Especially during the current Covid-10 crisis, easyjet should be wiser by preserving cash instead of spending it. According to Sir Helios, easyjet would be able to quote force majeure and cancel the order without paying any compensation to Airbus.

Airbus could ask for compensation
That's not correct, easyjet said in April and again today at the AGM. "easyJet has no ability to terminate the contract by reason of force majeure. This is standard in aircraft purchase contracts." It adds it would be liable for significant compensation to Airbus for 45 aircraft for which it has already received discounts under the original contract from 2013. easyJet would also be liable for any future losses that Airbus could demonstrate as a result of the termination of the contract.
Lundgren also warned that canceling the order will impact the level of direct OEM support for the operation of our existing fleet. "Costs would increase significantly, as easyJet would then have to purchase requisite software licences, training and onsite supports directly from a single-source supplier, as well as losing access to warranties and guarantees which underwrite the long term performance of the aircraft."
Yet, easyjet has renegotiated deliveries of 24 A320neo aircraft with Airbus, as reported earlier in our Covid-19-report. It will defer ten deliveries in FY2020, when it expects six more aircraft or fourteen in total. For FY2021, easyjet has deferred all twelve deliveries and will not receive any new aircraft.
In FY2022, two deliveries have been deferred with the option on five more. The airline now expects between eight and thirteen neo's by September 2022 and seven to 29 by September 2023.
It has the flexibility to adapt its fleet by renewing or returning 24 leased A320ceo's until October 2021.
After the AGM, chairman John Barton said he hoped to be able "to re-engage constructively with Sir Helios." The Greek was having not of that and he told reporters he will reject the outcome. He will continue to probe the relationship between easyjet and Airbus for which he has asked a whistleblower to stand up and reveal details about irregularities between the two companies. With this, Sir Helios has been suggesting Airbus might have bribed easyjet just as it has done with other airlines between 2008 and 2014. Investigations by the French, UK, and American authorities have only confirmed irregularities relating to airlines in Asia but not in Europe. Airbus settled the case last January for EUR 3.6 billion.
Headline loss 185-205 million
On April 16, easyjet reported a 6-month headline loss before tax of GBP -185 to -205 million, an improvement over -275 million last year. Revenues increased by 1.6 percent to GBP 2.382 billion, revenues per seat by 10.2 percent. It flew 38.6 million passengers, -7.4 percent.
Covid-19 has impacted easyjet's HY1 for only a single month from late February until late March, but the airline recorded a 4.5 percent increase in costs related to the crisis as disruption costs went up, furlough of staff only started at the end of the period. Seat costs were also higher as load factors tumbled. Fuel and airport costs amongst others were lower, of course, although with the aircraft on the ground the airline finds itself in a significantly over-hedged position as fuel is concerned. This will impact the HY1 income statement, so by ceasing the hedging of fuel, this situation is expected to improve.
Since February, easyjet has taken a raft of measures to reduce spending costs and preserve cash, although not the way Sir Helios wants it. The airline says it still burns GBP 30-40 million in cash a week even whilst the fleet is grounded but this would have been GBP 125 million without taking measures. This includes sending staff on furlough in April and May, postponing all non-critical maintenance and delaying any advertising and marketing campaigns. Capex has been slashed by one billion over the next three years.
The airline has secured two additional loans for GBP 400 million which are secured against aircraft. Together with GBP 600 million coming from the Covid Corporate Financing Facility and $ 500 million from a revolving credit facility, easyjet now has raised additional cash of GBP 1.85 to 1.95 billion leading to a notional cash balance of 3.3 billion.
Assuming the grounding of the fleet continues, easyjet has enough cash available for a prolonged period of inactivity. In its worst-case scenario of a 9-month grounding, the company would need GBP 3.0 billion in cash which is covered.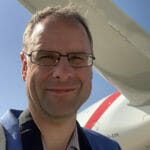 Active as a journalist since 1987, with a background in newspapers, magazines, and a regional news station, Richard has been covering commercial aviation on a freelance basis since late 2016.
Richard is contributing to AirInsight since December 2018. He also writes for Airliner World, Aviation News, Piloot & Vliegtuig, and Luchtvaartnieuws Magazine. Twitter: @rschuur_aero.