Early this morning we noted the E195-E2 had left Recife and was far over the  Atlantic, heading for Paris.  After 3:49, the aircraft landed at SID, in the Cape Verde Islands.   The aircraft then departed for the next leg to Paris.
Currently the aircraft just left the Iberia peninsula and is over the Bay of Biscay. Paris beckons.
Meanwhile, for those interested in the pending arrival of aircraft from far and near at Le Bourget, watch this space for movements.  This piece of Europe is going to become very busy over the coming days.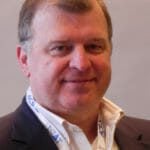 Co-Founder AirInsight. My previous life includes stints at Shell South Africa, CIC Research, and PA Consulting. Got bitten by the aviation bug and ended up an Avgeek. Then the data bug got me, making me a curious Avgeek seeking data-driven logic. Also, I appreciate conversations with smart people from whom I learn so much. Summary: I am very fortunate to work with and converse with great people.