Lufthansa Group's difficult and painful second quarter and first half-year, in which it was forced to start a deep restructuring and the German state became a shareholder again, translated into somber financial results. The airline ended HY1 at a €3.617 billion loss, just over three billion more compared to last year, it announced on August 6.
The result comes as no surprise, as the Group's airlines had come at an almost standstill in Q2 following the outbreak of Covid-19 to Europe and the rest of the world. In Q2, Lufthansa Group lost €1.493 billion, with Adjusted EBIT at €1.679 on €1.894 billion revenues. For HY1, the net loss was €3.617 billion, Adjusted EBIT €2.899 billion, and revenues 8.335 billion. Cash burn was €550 million or on average 17 million per day. Adjusted free cash flow was €510 million, down from 269 million last year, liquidity €2.8 billion compared to €4.2 billion by the end of Q1.
Performance by airline
By airline, parent Lufthansa produced an Adjusted EBIT of €1.708 billion compared to 361 million last year, with revenues 63 percent down to €2.917 billion. The airline flew twelve million passengers between January and June, a drop of 65 percent. Lufthansa operated routes where it had zero load factors and only cargo.
SWISS/Edelweiss produced an Adjusted EBIT of €293 million compared to last year's €215 million. Revenues were down by 55 percent to €1.095 billion, pax numbers by 64 percent to three billion.
Austrian lost even 70 percent of its passengers at only 1.9 million as the airline was grounded for most of Q2. Losses as Adjusted EBIT deepened from €53 million last year to €235 million in HY1 on EUR 322 million in revenues (-67 percent).
Brussels Airlines also was grounded for most of Q2, which translates in 67 percent fewer passengers at 1.5 million. Adjusted EBIT worsened from €36 million to €182 million on €252 million in revenues (-63 percent).
Despite 66 percent in cost reductions produced in Q2, low-cost leisure airline Eurowings remained deep in the red with an Adjusted EBIT of €358 million, down from €188 million last year. Revenues were 64 percent lower at €377 million, pax numbers by -66 percent to 4.2 million.
Cargo only unit with positive growth
The only business unit to produce better results compared to 2019 was Logistics. The significant drop in belly cargo capacity was partly offset by flying cargo in passenger cabins, for which Lufthansa had modified a number of A330s by removing all seats. Adjusted EBIT improved from €15 to 277 million on €1.320 billion in revenues (plus seven percent). Yet, capacity as in Available tonne-kilometers was down by 33 percent.
With less maintenance to do, Lufthansa Technik and the Group's other MRO businesses saw Adjusted EBIT decline from €235 million to €122 million. The sale of LH Technik has been put on hold until a better moment, but Lufthansa is looking at other options to improve profitability.
Lufthansa Group is expecting a significantly lower result for 2020. Capacity will be restored to 40 percent by September, 50 percent by year-end, and maybe 66 percent in 2021, with leisure traffic in Europe expected to recover quickly. Business is more difficult as businesses are restricted in the number of destinations they can fly to.
Involuntary job reductions inevitable
All airlines are implementing restructuring plans that have been announced since April and are now under the ReNew program. This includes the permanent phasing out of (older) aircraft and the reduction in staff numbers.
So far, 8.300 staff have left the airlines while 75.000 are working at reduced hours. Since April, Lufthansa has said it plans to reduce its workforce by 22.000 full-time jobs but would try to prevent involuntary redundancies by hoping to agree on part-time and other flexible contracts.
Today, CEO Carsten Spohr confirmed that involuntary losses are inevitable after negotiations with two of the three important unions have stalled. An agreement has only been reached with cabin crew union UFO which is up for voting by mid-August. Even after sixty days of negotiations, no deal is in sight with pilots union Cockpit, which earlier showed its willingness to accept pay cuts for the next three years. Spohr said he will be forced to make involuntary redundancies as Lufthansa alone has a surplus of 800 pilots out of some 5.000 cockpit crew. Most of this is with the three long-haul fleets (A380, A340, and 747) that have been either grounded permanently for the next years.
Six A380's have been phased out permanently, but the Board of Directors will decide later in Q3 what to do with the remaining eight.
Negotiations with cabin crew and ground staff union ver.di have also been inconclusive for the last few months. "Even with the government, we have had results more quickly", said Spohr. "Our deadline was eight weeks ago at the Annual General Meeting. That's why we have informed staff today that we can't continue without involuntary redundancies and have announced our intention to start making reductions."
First 2.3 billion of stabilization package received
Since the beginning of July, Lufthansa has received in total €2.3 billion of the stabilization package that was agreed on last May and received shareholder approval in June. The German Economic Stabilization Fund (WSF) has provided €0.3 billion in a capital increase and €1 billion as silent participation of 20 percent into the Group. Another €1 billion came from credits provided by KfW.
Austrian has received €600 million in state aid and negotiated annual cost savings of €80 million with its cockpit crew.  A similar deal was agreed with the staff at Brussels Airlines, which negotiated €290 million in state aid with the Belgian government. Lufthansa Group will provide additional equity to both airlines.
Already in April, the Swiss government agreed to a €1.4 billion in state aid exclusively mean for SWISS and Edelweiss.
By the end of June, the Group had €11.8 billion in liquidity and is fully funded for the next twelve months. It has been able to attract public financing again in July to refinance two aircraft for €167 million. Another capital increase will be inevitable at a later date but now is not the moment as the share price is low.
More deferrals not ruled out
Lufthansa will reduce Capex this to €897 million compared to the planned €1.904 billion. Part of this is received by deferring deliveries of new aircraft, with only 23 planned for 2020 (five fewer than planned) and twelve in 2021 (24 fewer). These include A320neo's, two A350s, and 777Fs.
Until 2023, the Group will take delivery of no more than eighty aircraft from Boeing and Airbus but Spohr doesn't rule out stretching deliveries further if necessary. Adjustments on payments, financing, and delivery schedules are progressing well. Lufthansa plans to start crew training for the Boeing 777-9 in 2022 with deliveries the same year. That's in line with what Boeing said last week about the postponement of first deliveries by a year.
Spohr also said Lufthansa is looking at reconfiguring aircraft to smaller or higher cabin configurations to make them more profitable.
The ReNew program must produce tangible results in 2023, including a 15-percent increase in productivity over 2019 levels, the reduction in workforce, reducing management by 1.000 jobs, positive cash flow by 2021, and re-sizing of the fleet by 25 percent or a hundred aircraft. By then, Lufthansa Group wants to have repaid as much of the stabilization package funds as possible.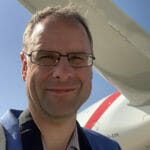 Active as a journalist since 1987, with a background in newspapers, magazines, and a regional news station, Richard has been covering commercial aviation on a freelance basis since late 2016.
Richard is contributing to AirInsight since December 2018. He also writes for Airliner World, Aviation News, Piloot & Vliegtuig, and Luchtvaartnieuws Magazine. Twitter: @rschuur_aero.