Fast-growing Greek airline SKY Express buys more ATR 72-600s. It has signed an order for five additional aircraft to complement the first aircraft that was delivered on June 30. It brings the 600-fleet to six.
The order and pictures of the contract signing were released on July 12, although Air Finance Journal reported on it a few days earlier. The five aircraft will be delivered before the end of the year. ATR says this order – the first of 2021 – is a new one and hasn't been a previous undisclosed order.
The 600s are part of a fleet renewal program that sees them replace -500s. SKY Express operates a fleet of five 42-500s and five 72-500s, which joined the airline only between 2017 and 2019. A SKY press release in the delivery of the first 72-600 refers to "upgrading and modernizing its already green fleet." As ATR told Airinsight in June last year, regional airlines and turboprops have been at the forefront of the recovery during the pandemic.
SKY operates the ATRs on 35 domestic and regional routes within Greece, with its many islands and regional airports. The airline, which was formed in 2005 and is part of IOGR Group owned by businessman Ioannis Grylos, also operates nine European routes using AirbusA320neo's. The first neo was delivered to SKY on November 28 last year to support the airline's rapid growth strategy.
On July 11, the carrier launched its seasonal service between Heraklion (Crete) and Amsterdam Schiphol. Heraklion is a busy hub this summer as SKY is offering ten national and ten international services out of there. European destinations include Hamburg and Dortmund in Germany and to Paris Charles de Gaulle, Nantes, Lyon, and Lille in France. Athens is its other major hub, opening direct services to Rome on July 8. On February 22, it launched its first international service between Athens and Larnaca (Cyprus).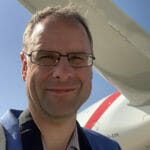 Active as a journalist since 1987, with a background in newspapers, magazines, and a regional news station, Richard has been covering commercial aviation on a freelance basis since late 2016.
Richard is contributing to AirInsight since December 2018. He also writes for Airliner World, Aviation News, Piloot & Vliegtuig, and Luchtvaartnieuws Magazine. Twitter: @rschuur_aero.