Thanks to the market developing more positively, Finnair expects this year's unit revenues to be better than previously anticipated. Key markets in Japan and China have re-opened and should no longer be affected by travel restrictions after the summer. Still, Finnair's road towards profitability on an annual level is a lengthy one, it said today during the FY22 results presentation. Finnair sees brighter future behind the clouds.
Full-year, Finnair reported a €-476.2 million net loss compared to €-464.3 million in 2021. Total revenues were up significantly to €2.357 billion from €838.4 million. Passenger revenues totaled €1.711 billion (2021: €420.8 million), cargo revenues €352.3 million (€334.7 million). Unit revenues were up by 25.5 percent to €0.084 thanks to higher yield and load factors.
Expenses were also higher, largely due to increased capacity. Fuel costs almost quadrupled to €835.1 million, but traffic charges were also higher to €206.5 million from €102.4 million as the closure of Russian airspace forced the airline to fly longer routes to Asia. Yet, the operating loss was lower to €-200.6 million versus €-454.4 million.
Profit in Q4
Q4 produced a €53.3 million net profit compared to a €-83.7 million loss in the same period of 2021. Comparable EBITDA was €99 million It was the second positive quarter following a profit in Q3 and "another important step in the right direction", CEO Topi Manner said. Revenues were up to €687.3 million from €413.5 million, the operating result to a positive €38 million versus €-60.2 million. Although lower than in Q3, fuel costs were still exceptionally high. Traffic costs were down year on year.
Finnair's flights to Asia reached only fifty percent capacity in available seat kilometers (ASK) compared to 2019. Although operating these routes around Russia makes them forty percent longer, the airline generated good yields thanks to capacity constraints in Asia due to travel restrictions but notably from strong demand for cargo. Overall, cargo revenues for the quarter were lower at €68.6 million versus €147.1 million in Q4 2021 but higher than in Q3 thanks to seasonality. Ancillary revenues improved to €32.4 million from €19.4 million thanks to advance seat reservations, excess baggage, and flight ticket fees.
Demand within Europe and North America was strong in Q4, as was the appetite for package holidays through the subsidiary Aurinkomatkat. Passenger revenues were the highest in Europe, followed by Asia, North America, and domestic. Overall, Finnair carried 2.5 million passengers during the quarter at 71 percent capacity of 2019, or 79 percent if its wet lease operations for Eurowings and British Airways are included.
Finnair only launched services from Copenhagen and Stockholm to Doha (Qatar) in November and from Helsinki in December, so it is too early to measure the effect. Manner says that the partnership with Qatar Airways will significantly increase the importance of the Middle East market in Finnair's network and open up connections to Asia and Africa.
Strategy review
The changing market environment has resulted in a strategy review that was announced in September. By mid-2024, Finnair wants to restore EBIT to a pre-pandemic level of at least five percent, by substantially reducing costs, optimizing the network and fleet, leveraging partnerships, and restoring the balance sheet.
Work has been in progress since September. The extension of the network to the US and the partnership with Qatar Airways are examples of optimization initiatives, as are the optimization of aircraft lease agreements and more wet-leasing out. Improving unit revenues by 25 percent and ancillary revenues by thirteen percent over 2019 also confirms that the new strategy is having its first effects.
The restructuring also includes the renegotiation of contracts with all personnel groups and job reductions for 150 staff while work has been subcontracted to external partners with cheaper contracts. The extension of a €600 million pension premium loan that was agreed upon and of which repayments extend now through May 2025. The airline continues to renegotiate contracts with suppliers to reduce costs.
Outlook
For the full year, Finnair expects to grow capacity back to 80-85 percent compared to 2019. "Finnair estimates that the strong demand for travel will continue in the short-term, supporting its unit revenues as in the second half of 2022, but the continuing general economic uncertainty will weaken the visibility of travel demand development during 2023. With the fading impacts of the pandemic following the opening of China, Finnair expects normal seasonality to return," it says in its guidance.
Revenues will significantly increase year-on-year, especially when compared to HY1 last year which was "heavily burdened" by both the pandemic and the closed Russian airspace. Nonetheless, the company estimates that its revenue will not yet reach the level of 2019. The carrier ended the year with €1.5 billion in cash and an interest-bearing debt of €1.1 billion.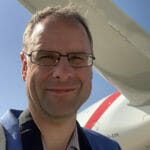 Active as a journalist since 1987, with a background in newspapers, magazines, and a regional news station, Richard has been covering commercial aviation on a freelance basis since late 2016.
Richard is contributing to AirInsight since December 2018. He also writes for Airliner World, Aviation News, Piloot & Vliegtuig, and Luchtvaartnieuws Magazine. Twitter: @rschuur_aero.