Finnair has announced a drastic strategy change on September 7 that should help to overcome the headwinds from the Covid crisis and the war in Ukraine. The airline will opt for a more balanced network to make it no longer dependent on flying over Russia, reduce the fleet, and improve profitability. New strategy should get Finnair back to profitability in 2024.
When the Covid crisis hit Finnair in 2020, the carrier said it would manage thanks to a strong financial position. But as the crisis lasted longer, the airline swiftly depleted cash. Despite generating €200 million in structural annual savings in 2020 and 2021 and raising €3.0 billion in new debt in equity, Finnair's losses have accumulated to €1.2 billion. It will draw €110 million from a €400 million capital loan later this quarter.
Then Russia invaded Ukraine in February 2022. The European Union imposed sanctions on Russia and Moscow retaliated by imposing a ban on Western airlines using its airspace. Finland, positioned in the far Northeast of Europe and bordering directly Russia, was immediately affected and so was Finnair. Unable to overfly Russia, the airline has to make long (plus 40 percent flight time) and costly bypasses to serve its destinations in Asia, which at the same time is still very much closed. The once successful routes to China, Japan, and South Korea have been troublesome in the past months.
By opening new routes to the US, Finnair hoped to compensate for the losses it suffered elsewhere, but with inflation soaring and jet fuel doubling, CEO Topi Manner and his team had to do something to address the permanent nature of the new reality. New cost savings of €60 million announced last spring and leasing out capacity to IAG and Lufthansa are only stopgaps.
Geographical advantage lost
The first indication of Finnair's new strategy came two weeks ago when it announced a codeshare partnership with Qatar Airways to launch new routes to Doha (Qatar) from Helsinki, Stockholm (Sweden), and Copenhagen (Denmark).
"Our Asian routes (via Russia) were among the most profitable in our network. We must now compete without our geographical advantage. That means that in the markets that are now open to us, we need to compete in markets that are less regulated and more competitive. We will meet competition with lower cost structures. That means that we need a significant structural renewal in the company, most notably related to costs", said Manner in an online press conference.
Finnair's financial target is to get back to a pre-pandemic EBIT level of at least five percent and a reduction of fifteen percent in unit costs by mid-2024 compared to 2019. Reductions will come from the fleet, personnel, suppliers, premises, and structural changes. The airline is in negotiations with all employee groups about findings savings. Manner isn't ruling out a reduction in headcount. "The bottom line is that we need to look into all cost categories in a very diligent and rigorous fashion."
The exact amount of cost reductions will need to be determined and will also depend on demand, said Manner. The airline wants the strengthen unit revenues and rebuild its balance sheet, reduce the fleet, reform the network, and double down on digital services. The airline will maintain the sustainability target of reducing net-zero emissions by fifty percent in 2025.
Network review
The network will be geographically balanced to connect Europe to Asia, India, the Middle East, and North America from its new Helsinki airport. Tokyo, Seoul, Beijing, Shanghai, Guangzhou, Hong Kong, Phuket, and Bangkok will be on the Asian network, but secondary cities will no longer be served as they will not be profitable. In India, Delhi and the new route Mumbai are to stay.
The Middle East will become more important thanks to the agreement with Qatar Airways. Finnair will operate 28 weekly flights to Doha from a fourth European destination that is yet to be announced, said Manner, plus two to Dubai. The Qatar partnership makes it unnecessary for Finnair to serve Africa itself. North America will build on the partnership with American Airlines and Alaska Airlines.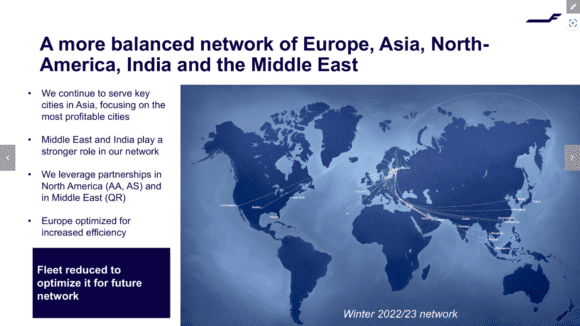 Fleet to be optimized
With this network review comes an optimized fleet. This currently includes 80 aircraft, including regional aircraft. There are 31 Airbus A320ceo family aircraft, eight A330-300s, and seventeen A350-900s in the Finnair fleet. The future size will depend on the needs of this network, said Manner: "One important factor here will be a demand that we will be seeing on the market, especially the opening of China. The timetable of the reopening of China will play a role."
This means the exact future fleet plan needs to be decided, although Finnair will fly at 85 percent of its capacity in Q4. Manner added that it is no foregone conclusion that the number of widebodies will be reduced. All Airbus A350-900s are flying with Finnair and Eurowings (extended until March 2023) while some will get new cabin products. The A330-300s will be used on the Doha routes.
The airline wants to continue to offer a differentiating flying experience on the long haul while going for "smoothness, simplicity, and efficiency" on short-haul where it wants to improve profitability. The airline will reduce its dependence on transfer traffic, which means that more passengers will fly either long-haul or short-haul.  
Partnerships will be the core of the revised strategy, Manner said, with greater importance on doing business with Oneworld as is confirmed with the Qatar codeshare agreement. Other airlines are American, Japan Airlines, and Juneyao Airlines. Finnair also wants to strengthen operative partnerships, with outsourcing seen as a means to improve cost efficiency. Product and brand partnerships will also be intensified.
As Topi Manner concluded: "Restoring the profitability is the key here. Continued net losses are not benefitting any of our stakeholders. We need to come back to profitability, that's where we start the implementation of our strategy. We will now be starting discussions with unions and our vendors and we expect to have constructive dialogues."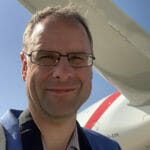 Active as a journalist since 1987, with a background in newspapers, magazines, and a regional news station, Richard has been covering commercial aviation on a freelance basis since late 2016.
Richard is contributing to AirInsight since December 2018. He also writes for Airliner World, Aviation News, Piloot & Vliegtuig, and Luchtvaartnieuws Magazine. Twitter: @rschuur_aero.