As US airlines continue to update their fleets we can see how the updates are evolving by tracking the T-100 database.  The April 2019 data was released and here is an update from our model. Subscribers can drill down into the model to delve into details by airline.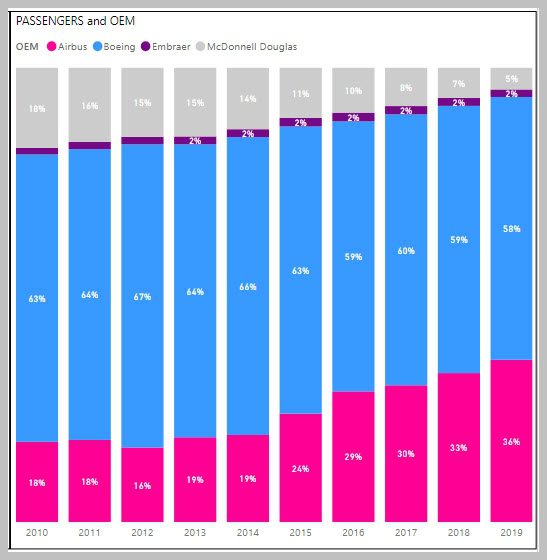 The chart shows two key data points: the duopoly's power is growing and, in the US, Airbus's market impact keeps growing.  When we cut these numbers into the single-aisle segment and breakdown the models we get the following. Please click the chart to expand it.

The color breakdown is shades of blue are current Boeing models and shades of red are Airbus.
For Airbus, the growth model is the A321. The A320 is stable and the A319 has seen some growth as US airlines acquire used models at low cost.  For Boeing the MAX debacle is hurting its performance but in the meantime, the 737-900ER is the growth model as the -800 holds steady.  Clearly, had the MAX been flying the chart would be different.
However, what the chart hints at is that the A321ceo and the A321neo are the models to watch.  American and Delta have big orders for these models. It is clear that they will replace the 757s and also act as gauge growth.  Even if the MAX were flying Boeing cannot seem to catch the A321.  If United decides in favor of the A321, then it really becomes a one-horse race.  Although United does not see the A321XLR as a viable 767 replacement, it is hard to argue that the variants of the A321neo accomplish the 757 replacement better than the MAX.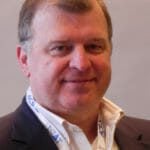 Co-Founder AirInsight. My previous life includes stints at Shell South Africa, CIC Research, and PA Consulting. Got bitten by the aviation bug and ended up an Avgeek. Then the data bug got me, making me a curious Avgeek seeking data-driven logic. Also, I appreciate conversations with smart people from whom I learn so much. Summary: I am very fortunate to work with and converse with great people.