UPDATE – flydubai reduces its Boeing MAX order by 65 aircraft to 188, the low-cost airline from Dubai has confirmed on July 13. The revision is included in Boeing's latest figures of unfilled orders that were released on the same day.
In a media statement, flydubai says it has adjusted its order following a review of the fleet plans "in line with the airline's strategy of rebuilding the travel sector following the Covid-19 pandemic and the changing dynamics of the airline's route structure."
The carrier placed its first MAX order for 75 aircraft plus 25 options during the 2013 Dubai Airshow. Deliveries would commence in 2017 and run until 2023. At the same time, the airline ordered eleven extra 737-800s, which were added to an order for fifty that was placed in 2008.
At the 2017 Dubai Airshow, flydubai announced a follow-on firm order for 175 MAX plus fifty options worth $27 billion. Back then, it said to have unfilled orders for some 296 aircraft, including 737-800s. It took delivery of the first MAX 8 that same year and showcased the aircraft at the airshow (main picture) and received five more that same year. Since then, the airline has grown its fleet to thirteen MAX 8s and three 9s. It received two 8s in June and another eleven MAX are due this year. The follow-on order also included an unspecified number of MAX 10s to give flydubai flexibility and commonality.
Originally, flydubai planned to have a fleet of seventy MAX by 2023, but the two fatal accidents in 2018 and 2019 and the subsequent grounding of the type have changed this. Only after 22 months, the MAX received approval for a return to service by the UAE's General Civil Aviation Authority (GCAA) on April 4, which duly happened four days later on April 8.
MAX instrumental in original growth strategy
Back in 2017, the MAX was seen instrumental to flydubai's growth strategy that saw a rapid expansion of its network across Europe, Central Asia, the Indian Subcontinent, Africa, and notably Russia and the Caucasus. It opened more than seventy routes to underserved destinations.
However, the Dubai carrier was hit hard by the pandemic and reported an AED 712.6 million ($194 million) loss for 2020. Flydubai still only operates out of Dubai International and has abandoned Dubai World Central where in 2019 it has just grown its base out of the updated terminal building.
Currently, flydubai operates to 90 destinations again with a fleet of 52 aircraft. It will add more destinations to its network, including Salzburg and Ankara in July, and Budapest, Ljubljana, and Warsaw from late September. The "changing dynamics" mentioned in its statement must refer to the post-pandemic market in which airlines all over the world are confronted with the need to become smaller and leaner. Flydubai will be no exemption, although its narrowbody fleet is set to play a key role in a revised joint strategy with its bigger sister airline Emirates. President Sir Tim Clark said in April that he foresees more network integration between the two airlines. 
Boeing's unfilled orders list for June shows 170 MAX for flydubai, which together with the sixteen that have been delivered makes 186. However, a flydubai spokesperson confirms that the carrier will receive another 172, which brings the MAX fleet to 188.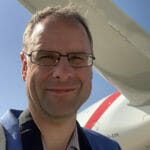 Active as a journalist since 1987, with a background in newspapers, magazines, and a regional news station, Richard has been covering commercial aviation on a freelance basis since late 2016.
Richard is contributing to AirInsight since December 2018. He also writes for Airliner World, Aviation News, Piloot & Vliegtuig, and Luchtvaartnieuws Magazine. Twitter: @rschuur_aero.