Emirates has enough cash to sit out for the next six to eight months but is not ruling out the need for extra funding if the recovery from the pandemic will take longer. This could be through the UAE government providing more equity or by adding more debt to the balance sheet. "We will discuss this with the government", Emirates CEO Sir Tim Clark said during an online session of the World Aviation Festival talking to Bloomberg's Guy Johnson.
Emirates will present its 2020 results in the coming month, which will show how big the impact of the Covid crisis has been. For weeks last spring, the airline grounded almost its entire fleet. That has changed a year on, with all 151 Boeing 777s in active service either operating passenger or cargo-only services. A dozen of Airbus A380s is also back in action out of 117 in the fleet.
The uptick of tickets is staying behind
Clark said he had hoped Emirates to be in a better situation right now, with the uptick of ticket sales staying behind expectations as countries continued adopting bans and travel restrictions. The recovery is fully dependent on how countries respond to the various protocols and the virus itself. "And you see that changing by the hour, which makes it progressively difficult to forecast what countries are open under what set of rules that allows us and other carriers to access those markets in the next six months or a year." By that time, Emirates will be ready to bring the entire fleet back into service, including all A380s, Clark said.
The jury is out on when that exact moment will be. If the current situation remains unchanged for the next three, six, or nine months, then Emirates, like most airlines, will have to source additional funding to keep going. "No airline, no business can sustain this level of lack of demand. As far as Emirates is concerned, we are good for another six, seven, eight months in terms of cash. We have sufficient cash coming in to keep the day-to-day operations on a neutral basis. But if in six months global demand is where it is today, then we are all gonna face difficulties."
Clark continued: "We will make the recommendations to the government where we going in regard to raising more cash. One of those could be a further injection of equity from the shareholder, others will be taking on more debt onto the balance sheet. Our balance sheet is pretty strong, regardless of what has already happened. And there are other measures that we could take, but I am hoping that demand will return during the course of the summer so that we can sort it out."
The key for Emirates is to be able to operate in important markets. The Covid situation in India has become worrying over the last few days, but likewise, the UK still keeps the UAE on the red list. Clark is critical about that, as he says that people who want to go into the UK will find alternative routes of doing so. "You amplify the risks, as people are on two flights, they mix with other people at other airports." Keeping its six Heathrow slots is very important.
Clark hoping for visibility on the 777-9 soon
Sir Tim has been discussing its fleet plans in recent weeks and months on a number of occasions as he tried to understand where he is with the earlier order announcement, like that reported on Airinsight.
On the Boeing 777-9, he repeated that he'd like more visibility on when Emirates will receive the first aircraft, which could be in late 2023 or 2024, and on the performance specifications of the type. "I can't tell you if we will do more 787s or less and maybe even more 777-9s. We don't know at this stage. We just want to see what the airplane is going to do."
Clark said he hoped to have "grown-up conversations" with Boeing about the 777X in the coming months. He confirmed that Emirates is looking at converting an unspecified number of Boeing 777-300ERs into full freighters as they come to an end of life as passenger aircraft.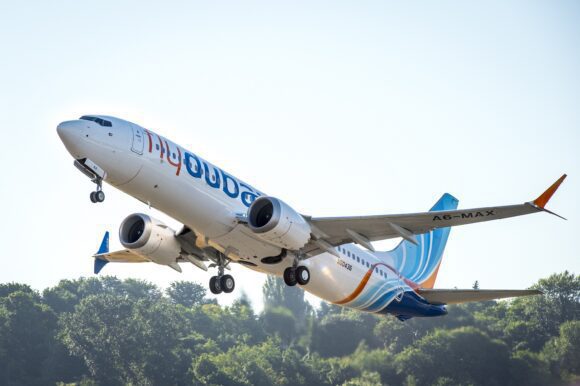 Flydubai resumed Boeing MAX operations earlier in April. (flydubai)
Emirates and flydubai look at more network integration
Sir Tim said that Emirates and flydubai will work more closely together, with more network and fleet integration. The UAE low-cost has an all-737/MAX fleet, which places it in an ideal position to capture market share on thin routes and feed Emirates' network. This has already been done since the two started working closer together in 2017 and again in 2019, but there is room to integrate more. This will benefit Dubai International Airport and reinforce its position as a hub airport for both carriers and increase income. As far as the transfer of routes from Emirates to flydubai is concerned, Clark said "there has to be a rationalization how best they are going to be used."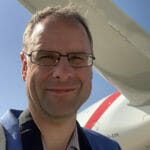 Active as a journalist since 1987, with a background in newspapers, magazines, and a regional news station, Richard has been covering commercial aviation on a freelance basis since late 2016.
Richard is contributing to AirInsight since December 2018. He also writes for Airliner World, Aviation News, Piloot & Vliegtuig, and Luchtvaartnieuws Magazine. Twitter: @rschuur_aero.