GE Aviation 1Q22 Results
GE Aviation's revenue rose 12.2% YOY, its best since the final quarter of 2018.  "Aerospace was a key driver of our performance this quarter as the industry recovery builds momentum," Chief Executive Officer Larry Culp said. Here's our view on the GE Aviation 1Q22 results.

Aviation is an important aspect of GE's business.  The division generates the largest share of GE's revenue and profits. Moreover, GE plans to spin off healthcare and energy businesses over the next several years and focus on aviation. GE Aviation is the most impacted part of GE by the pandemic.
Overall, GE reported mixed earnings but beat consensus estimates.  GE is sensitive to commercial air travel and the near halt to air travel had its impact.  As travel demand has returned, GE's strong market share in smaller engines, like the LEAP, enables it to benefit.  The LEAP powers all the 737 MAX models which are now being delivered as fast as Boeing can get them updated and FAA certified.  The LEAP also has over half the total share of Airbus A320neo family deliveries.  As single-aisle aircraft lead the travel recovery, GE Aviation gets to ride this wave.  GE says it expects its full-year 2022 aviation revenue to grow 20% or more. Analysts expect aviation revenue to rise to its fastest pace over the next three years. Here is a useful link laying out GE Aviation's operating metrics.
GE shipped 1,487 commercial engines last year, including 845 LEAP engines (57%). However, 2021 deliveries are down 13.5% from 1,720 in 2020. LEAP deliveries were higher because of the MAX deliveries restarting.  GE Aviation also noted fewer shipments were offset by a "10% increase in commercial services shop visits" year-on-year in 2021, it says.
Commercial aviation is focusing on sustainability and one of the quickest ways to achieve this is by deploying state-of-the-art engines.  The LEAP is one such solution, and of the 738 new GE engine orders, 48% were LEAPs.  As the 787 deliveries restart, GE is likely to pick up more deliveries as it also leads on that program with a substantial lead over Rolls-Royce.
Management reshuffle
In late June GE announced leadership changes. Larry Culp became Chief Executive Officer of GE Aviation in addition to Chairman and CEO of GE while John Slattery, then President and CEO of GE Aviation, became Executive Vice President and Chief Commercial Officer, GE Aviation.  GE in its announcement noted: "These leadership changes follow GE's November 9, 2021, announcement of its plan to separate GE into three independent, industry-leading, investment-grade companies focused on the growth sectors of Aviation, Healthcare, and Energy ". John Slattery said, "It has been an honor leading GE Aviation over the last two years. I am excited to be part of a tremendous leadership team as we move closer to launching as a standalone business. Customers and our industry partners are at the center of everything we do at GE Aviation, and I look forward to continuing to dedicate my time to them and ensuring we provide the best possible support as the industry accelerates its recovery."   
Aerospace results for the past quarter were again strong and the period was Slattery's last quarter as President and CEO of GE Aviation. This is the lens to consider his performance and demonstrates he managed the P&L well in a challenging environment.  Moreover, as CCO at the rebranded GE Aerospace Slattery is likely better to focus on M&A and strategic game theories playing out in the engagement with the airframers as they invent the future of flight they often reference.  Slattery's decade of leadership at Embraer and prior to that as co-founder of lessor RBS Aviation Capital (now SMBC) uniquely positions him to support Culp and GE Aerospace in the years ahead as they make the big bets on partners and platforms.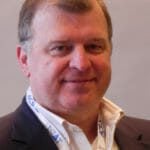 Co-Founder AirInsight. My previous life includes stints at Shell South Africa, CIC Research, and PA Consulting. Got bitten by the aviation bug and ended up an Avgeek. Then the data bug got me, making me a curious Avgeek seeking data-driven logic. Also, I appreciate conversations with smart people from whom I learn so much. Summary: I am very fortunate to work with and converse with great people.