Major European travel and airline TUI Group is expecting the grounding of its Boeing MAX 8-fleet to cost €200mln. That is when the grounding lasts until the Summer. If extended until September, another €100mln impact on its before-tax results is to be expected, the Group announced on March 29.
As Airinsight's analysis on March 19 has shown, grounding the MAX impacts TUI's fleet by 11 percent. Until the grounding became effective, TUI has been operating a fleet of 15 MAX 8s in the UK, Sweden, The Netherlands, and Belgium. Eight more were up for delivery by May: the first four to Germany, three to the UK and a second MAX to the Dutch subsidiary.
With no date set for modifications and re-certification, re-entry into service is unclear. During the US Senate subcommittee hearing last Wednesday, NTSB chairman Robert Sumwalt indicated this period could be at least ten months.
To cover the important Spring and Summer holiday season, TUI has now scheduled its operations around the MAX. The lease of 737NGs that had expired has been extended, aircraft from other sources are leased-in and spare aircraft are used for operational services. The extra costs of leasing are estimated at €110mln. Higher operational/fuel costs will be some €30mln, while another €60mln is set aside for disruption/one-off operational costs.
TUI took delivery of its first MAX 8 on January 29, 2018. (Boeing)
The costs will impact FY2019 EBITA by some 17 percent, assuming the MAX grounding end in July. If it takes longer until September, the impact on EBITA (€1.177bln in 2018) will be even 26 percent. Net debt is expect to increase to €1.5bln.
On July 9, 2013, TUI Group ordered 70 MAX8s, with the first delivered on January 29, 2018. At the 2017 Paris Air Show TUI converted 18 orders into the larger MAX 10 that was launched at the show, becoming the first customer in Europe. Delivery of the MAX 10 was scheduled for 2020.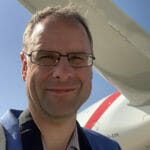 Active as a journalist since 1987, with a background in newspapers, magazines, and a regional news station, Richard has been covering commercial aviation on a freelance basis since late 2016.
Richard is contributing to AirInsight since December 2018. He also writes for Airliner World, Aviation News, Piloot & Vliegtuig, and Luchtvaartnieuws Magazine. Twitter: @rschuur_aero.