Airlines can soon hedge their ticket price revenues with a new financial product launched by Airbus-subsidiary Skytra Ltd. The tool was unveiled on January 20 in Dublin, where this week the air financial and leasing industry gathers for the Airline Economic Growth Frontiers 2020 and Air Finance Journal Dublin 2020 summits.
Airbus created London-based Skytra in May 2019 as a way of looking at how the air travel industry could prepare itself better for financial risks. In a year when 27 airlines went bankrupt, risk management has become of greater importance to the industry.
While airlines manage their costs by hedging fuel, interest rates, and currency fluctuations, they haven't had control over revenue volatility. Which usually is a very volatile business, says Skytra's Elise Weber: "Ninety percent of the tickets are booked within ninety days before take-off." This means airlines are uncertain of their income until the last moment. Political tensions like the recent Iraq-Iran issues, natural disasters like in Manila or unexpected diseases like a coronavirus in Wuhan (China) can make travelers change their plans, leaving many aircraft seats unfilled.
Once approved by the UK's Financial Conduct Authority, Skytra will offer airlines futures and options contracts based on a regulated derivatives trading venue. The tools are based on indices, which include ticket price data on global and six regional versions. Skytra hopes its products will help the airline industry to master volatility just as comparable products have helped the energy, agriculture, and shipping sectors.
While the Airbus press release quotes Finnair and investment bank Citi welcoming the new instrument, it needs to be seen how the airline and financial industry will embrace this product and if there are any risks and side effects of this derivative-based mechanism.
IBA: yields to remain low
That the air travel industry is in for a volatile 2020 is predicted by independent IBA consultancy, who presented its forecast last week. Stable global GDP, continued low interest and flat oil prices are helpful, but a strong Dollar and a significant capacity increase once Boeing starts redelivering new and grounded MAX will cause a watershed effect on airlines, with yields expected to be low again.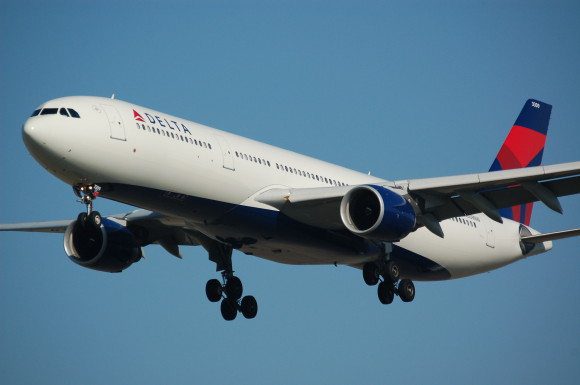 Lease rates of older A330-300s have dropped 5-7 percent and those of -200s by an average of 30 percent,  says IBA.
The leasing market has seen a difficult year, with the grounding of the MAX affecting new leases and sale and leasebacks which were down to 2016 levels. Airlines were forced to extend leases to keep their schedules up and running without the MAX and NEO's, the latter suffering from delayed deliveries. This pushed up values and rates for popular single-aisle airliners like the Airbus A319ceo (+7 to 13 percent higher value), A320ceo (1-4 percent), A320neo (3 percent), A321ceo (6 percent), 737-700 (6-7 percent), and 737-800 (4-6 percent). The value of regional jets was stable, while that of turboprops was down an average of 2-4 percent.
Widebodies are in worse shape, their values sometimes sliced dramatically over the year, like the A330-200 (-30 percent for older aircraft), A330-300 (-5 to 7 percent), A380 (-2 percent), 787-8 (-2 percent). Younger 777-300ERs kept their value but medium-aged aircraft lost 12 percent value. Lease ends for widebodies were slower than anticipated.
Air Lease Corporation-boss Steven Udvar Hazy outlined in Dublin there will be some 3.400 airliners reaching 20 years of age until 2025.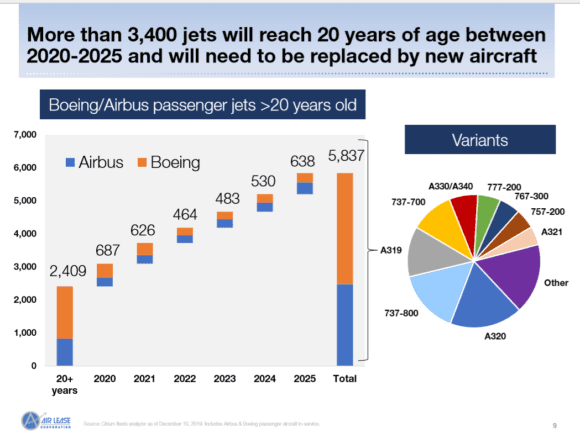 The leasing market continued and will continue to grow with new entries joining an already crowded market, resulting in more competition and lower rates. IBA expects the need for further consolidation as too many lessors own a similar inventory. At the same time, lessors are expected to continue tapping into new means of capital, both IBA and Dublin-based lessor Avolon say in their 2020 outlook. Asset-based securities transactions grew 30 percent over 2018 and 2020 should be another strong year.
In its outlook, Avolon expects no decision from Boeing this year on the New Mid-market Aircraft (NMA) and the A321XLR will continue to compete uncontested in the market segment as both manufacturers focus on getting their on-time deliveries back on track.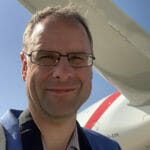 Active as a journalist since 1987, with a background in newspapers, magazines, and a regional news station, Richard has been covering commercial aviation on a freelance basis since late 2016.
Richard is contributing to AirInsight since December 2018. He also writes for Airliner World, Aviation News, Piloot & Vliegtuig, and Luchtvaartnieuws Magazine. Twitter: @rschuur_aero.