Helvetic Airways is looking beyond the horizon for new destinations, now that it will have the Embraer E195-E2 in the fleet. The Swiss airline is seeing new options to fully exploit the 4.815-kilometer range of the largest version of the E2, of which the first was delivered on June 23. It will arrive in Zurich on the 25th. 
Helvetic, a small privately-owned airline that operates its own schedule, charters, and a large part of services under wet-lease from SWISS, ordered twelve E190-E2s at the 2018 Farnborough Airshow. In July 2020, it converted the final four to the bigger E195-E2 to give it maximum flexibility. The carrier received the eighth and final E190-E2 on March 10, having received the first in October 2019.

The first E195-E2 arrives this week and will enter commercial service on July 10. The second is set to be delivered on July 2, having made its first test flight on June 22. The third and fourth are scheduled for delivery either in the last week of July or the first of August. The E195-E2 gives a 31 percent reduction in carbon dioxide emissions over the E1. As more passengers expect to fly on a 'green' airliner and expect airlines to offer these, Helvetic is happy that it can fulfill this demand.
"We are thus in the process of closing a very ambitious program of $750 million. At a time when many airlines are facing great difficulties, we are completing the modernization of our fleet and are ready to meet the challenges of the post-pandemic world", Tobias Pogorevc said in Zurich during an online media event. "There was little to celebrate over the past year, but today we can let go a little."
Pogorevc said that Helvetic had decided to amend the original order to have more flexibility, with 110 seats on the E190 and 134 on the E195. "We are therefore now able to plan the right aircraft depending on demand. A factor that has become very noticeable due to the pandemic is that passengers are booking at very short notice, sometimes less than two weeks before departure." The E2-types give the airline the option to right-size at the last moment.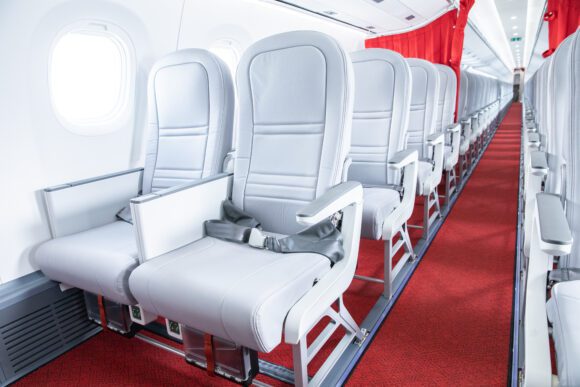 The Helvetic E195-E2 has a two-class cabin with 134 seats. (Helvetic)
Destinations further away from Switzerland also become available. Pogorevc mentioned Zurich-Dubai or Basel-Dakar, but he added later that these were only for reference. Helvetic has no plans to serve Dubai but is looking at options in Africa. When the E190-E2s had to do some repatriation flights from Accra last year, it confirmed the range of the type. The same applied to Baku, where it flew Swiss football fans recently on a charter flight. "This gives market potential, that's why we are evaluating", Pogorevc said.
At least one E195-E2 will be based at Basel-Mulhouse Freiburg. Together with an E190-E2 there, Helvetic will serve Jerez (Spain), Santorini (Greece), and Larnaca (Cyprus) from the airport on the Swiss-French border. Helvetic will also continue to operate its own charter flights. It is evaluating options to do more pop-up flights to temporary destinations as it did in 2020 but prefers to do charters instead.
Effects of SWISS restructuring still not clear
The E195-E2 will not be deployed on wet-lease routes for SWISS. Only E190-E2s are on long-term contracts to the national airline, but Helvetic is in an uncertain position here. SWISS is in the middle of an extended restructuring. In May, it announced a reduction of 780 employees and a fleet reduction of fifteen percent. In a June 15 statement, SWISS said that following consultation with workforce representatives and unions, the number of forced redundancies has been lowered to 492.

However, the fleet reduction plan is still valid. A SWISS press release saying that "on the short- and medium-haul fleet front, the reduction in the number of Helvetic Airways aircraft operated on SWISS's behalf will be proportionately higher than the number of SWISS's own aircraft withdrawn." During today's media event, Tobias Pogorevc was unwilling to specify the effects on his airline.
The Helvetic CEO stressed, however, that his airline is financially sound with a strong balance sheet and without debt owed to the Swiss government. "This makes us attractive for bigger airlines: a financially lean, strong company with the most modern fleet", he said, which sounded as if owner Martin Ebner has already decided to offer it for sale. Ebner told Airinsight in 2019 (pre-pandemic) that "there is a future in Europe for the model familiar in the US, where major airlines work closely with regionals make sense here too. Look at Lufthansa: it operates the largest and smallest aircraft, that doesn't make sense."
As one of the leading E2-operators in the world, Helvetic still holds twelve options on more E2s. Pogorevc said Helvetic has no plans to take them up: "We don't know which way the aviation industry will go. We are not under time pressure for this, we can use them later if we wish."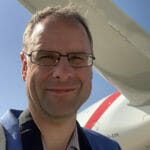 Active as a journalist since 1987, with a background in newspapers, magazines, and a regional news station, Richard has been covering commercial aviation on a freelance basis since late 2016.
Richard is contributing to AirInsight since December 2018. He also writes for Airliner World, Aviation News, Piloot & Vliegtuig, and Luchtvaartnieuws Magazine. Twitter: @rschuur_aero.