The HondaJet Echelon is the official name of the company's new light jet, previously known as the 2600 concept. The announcement at the 2023 NBAA convention in Las Vegas signifies the company's vision, elevating efficiency to new levels while delivering premium comfort and convenience.

A mockup of the HondaJet Echelon will be displayed at NBAA, the first time Honda has presented an aircraft family. "The HondaJet Echelon was born to create a new category that transcends the travel experience on conventional light jets," said Honda Aircraft Company President and CEO Hideto Yamasaki. "Expanding mobility skyward has been Honda's long-lasting dream, and the HondaJet Echelon markets the exciting next chapter while showcasing a classic Honda story of a product that creates new value for people."

The Echelon has been designed to offer a mid-sized jet experience in the light jet category. It is designed to be the world's first single-pilot light jet capable of non-stop transcontinental flights across the US. The aircraft will feature low operating costs with electrification and automation of systems to augment pilot capabilities, reduce workload, and increase safety.  The aircraft will include a Runway Overrun Awareness System, Auto Throttle, advanced steering augmentation, an emergency autoland system, and an auto-brake, among other advanced features.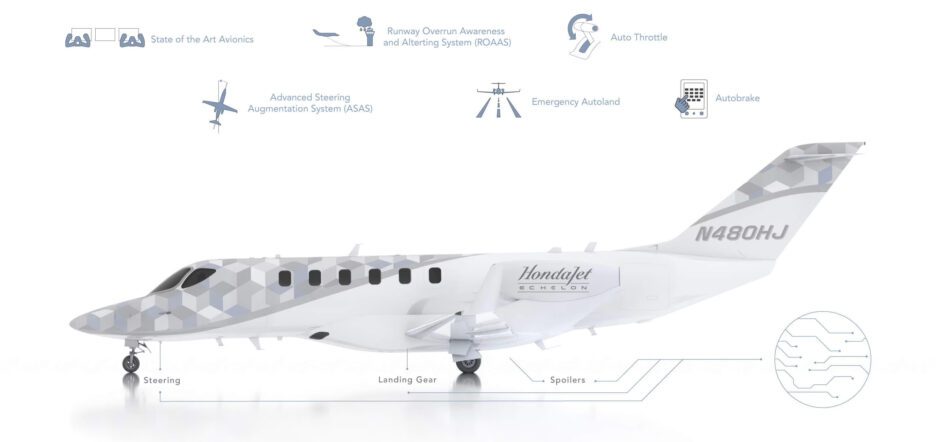 The program was formally launched on June 13, 2023, and the development program is well underway. Recent milestones include the installation of the first structural test rig, completion of a preliminary design review, and power-on for an advanced systems integration test facility on August 30, 2023., The Critical Design Review is set for summer 2024, a key development milestone.  Long-lead time component fabrication is already in process for time-critical components.  The first flight is scheduled for 2026, with type certification in 2028.

Williams International FJ44-4C engines will power the aircraft. The cockpit will feature the Garmin 3000 avionics suite. The aircraft will have 1 or 2 pilots with 9 or 10 passengers, respectively, with a maximum NBAA IFR range of 2,625nm. The aircraft will have a maximum cruise speed of 450 KTAS and a maximum cruise altitude of 47,000 feet.