Icelandair has turned a $54.9 million Q2 loss into a $19.6 million Q3 profit despite setbacks from the Delta variant and continued travel restrictions. The strong start of the quarter was tapered off by new Covid-cases in Iceland in August and September, but the carrier has seen strong bookings in recent weeks that bode well for Q4 and 2022. Icelandair calls on government to reopen Iceland.
The $19.646 million profit compares to $38.151 million for the same quarter last year. The operating profit was $8.177 million versus $3.466 million. Total revenues improved to $257.524 million from $103.5871 million. Icelandair served 34 destinations: 11 in North America and 23 in Europe. It carried 695.703 passengers compared to 192.190 last year. Cargo revenues increased by twenty percent to $20.094 million.
The first nine months still show a $65.390 million loss (2020: $-292.895 million) on revenues of $392.376 million ($373.369 million). Passengers carried for this period was 916.817, up nine percent from 2020.
Government should implement simpler Covid-rules
Following the higher infection rates in August and September, Iceland introduced stricter travel restrictions through border testing and demand proof of negative tests, even for fully vaccinated travelers. Icelandair calls on the authorities to review this policy and replace them with simple guidelines that are in line with those in other countries. A failure to do so will lose Iceland's precious tourism which it expects to pick up as Europe and the US reopen borders and reduce restrictions.
By the end of September, Icelandair had $282.4 million in cash and marketable securities. Total liquidity excluding a government-guaranteed credit facility was $334.4 million, with $52 million available from undrawn credit lines and a $120 million back-stop credit facility from two Icelandic banks guaranteed by the government. This brings total liquidity to $454.4 million. Icelandair increased its share capital by $80.2 million in Q3, with the sale of new equity and $3.3 million in warrants to Bain Capital. 
Three more MAX coming next summer
Icelandair has secured sale and leasebacks for two Boeing 737 MAX 8s plus an asset-backed loan for a MAX 9, which means it no longer needs the back-stop facility that was available for the aircraft. The MAX will be delivered this coming December and January. Finance for all twelve MAX has now been secured. With the expected growth in the summer of 2022, the airline is looking to add three leased MAX 8s to the fleet. Contracts should be concluded before the end of the year. The three aircraft will also replace some 757s, with a decision on the long-term fleet renewal also expected this year as we reported in September.
The airline plans to ramp up capacity from 50 percent in Q3 to 65 percent this Q4 and expects to be at 80 percent of 2019 levels in 2022. The network will be grown to fourteen North American destinations, 24 in Europe, three in Iceland, and four in Greenland. Demand for cargo also looks to be robust, especially that of fresh seafoods and the transit market.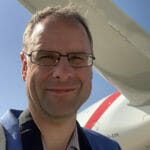 Active as a journalist since 1987, with a background in newspapers, magazines, and a regional news station, Richard has been covering commercial aviation on a freelance basis since late 2016.
Richard is contributing to AirInsight since December 2018. He also writes for Airliner World, Aviation News, Piloot & Vliegtuig, and Luchtvaartnieuws Magazine. Twitter: @rschuur_aero.