The community of all-electric aircraft operators is set to grow by 2025. Malta-based start-up JetClub and its US parent Jet It are launch customers of the Bye Aerospace 8-seater eFlyer 800, committing to an unspecified number of aircraft. Bye revealed its latest turboprop aircraft last April. JetClub launches Bye's biggest eFlyer 800.
JetClub and Jet It are so-called fractional-owned companies. Investors buy a minimal 1/8th share into a private aircraft and in return are entitled to its use or that of another one in the fleet for another €2.500 per hour. The company has a fleet of ten HondaJets and primarily targets Europe, Asia, and South America as its areas of business. However, it has seen "exponential growth" in the US in recent months. The company was founded in 2018 by Vishal Hiremath and Glenn Gonzalez, previously with HondaJet.
Bye Aerospace is a Denver-based airframer that plans a whole family of electric aircraft. It started in 2010 with an electric version of the Cessna 172. The smallest is the eFlyer 2, which is a 2-seater to be used as an efficient trainer aircraft at – according to Bye – one-fifth of the costs compared to older generation trainers. Serial production has started in late January and the type is near certification under FAA Part 23 anytime soon.
The eFlyer 4 is a 4-seater used for training, taxi, and cargo purposes. Both models are powered by the Safran ENGINeUS 100 electric engine that has an output of 500 kW.
The biggest Bye will have a twin-engine, low-deck configuration that can fly at 320 knots, FL350, and a range of 500 nautical miles plus 45 minutes of reserves. For redundancy, the aircraft has four battery packs and a full airplane parachute – in case it runs out of juice, plus an emergency auto-landing system. While called an 8-seater, the cabin configuration actually includes seven-passenger seats plus one or two pilots. Safran will offer an iteration of its ENGINeUS family.
Over 700 orders and commitments
Bye has racked up over 700 orders and commitments. Last November, South Korea's Aerospace9 placed purchase deposit agreements for 150 eFlyer 2s, 148 eFlyer 4s, and for two 7-seaters that will be eFlyer 800s.
Its plans were dealt a blow when in May, its partner OXIS Energy went into administration. OXIS was responsible for developing lithium-sulfur batteries for the eFlyer 4 and 800 since partnering with Bye in 2019. Owner and founder George Bye said in May that the development of its aircraft would remain on track and Bye would continue to support the UK-based battery maker.
Adding the eFlyer 800 to its fleet allows JetClub and Jet It to build their business and capturing more market share while at the same time taking a leap in sustainability. "While private aviation contributes only 0.04% of global emissions, we are working towards zero percent. With the addition of the eFlyer 800 to our fleet, we take a leap forward in our sustainability goals", Hiremath says.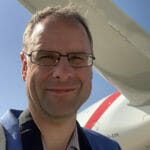 Active as a journalist since 1987, with a background in newspapers, magazines, and a regional news station, Richard has been covering commercial aviation on a freelance basis since late 2016.
Richard is contributing to AirInsight since December 2018. He also writes for Airliner World, Aviation News, Piloot & Vliegtuig, and Luchtvaartnieuws Magazine. Twitter: @rschuur_aero.