Last Saturday, October 28, KLM performed its final commercial passenger service operated by a Fokker aircraft.  This ended a 97-year association with Fokker.
The airline's last six inbound F70s arrived in Amsterdam from Dusseldorf, Norwich, Hannover, Brussels, Luxembourg and London Heathrow in the space of a one-hour period.
The final passenger F70 departure/arrival, KL1070, took place between London Heathrow and Schiphol. This was carefully planned because KLM's first passenger service using Fokkers operated to/from London in 1920.
For the many avgeeks who traveled to witness the event were rewarded with a near one-hour flight in a specially painted aircraft – PH-KZU – which carried a portrait of the aviation pioneer Anthony Fokker on its tail and the words "Fokker – Thank you" on its fuselage.
Here's a video of the time when KLM ended use of the Fokker 50.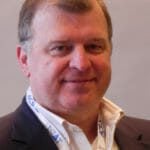 Co-Founder AirInsight. My previous life includes stints at Shell South Africa, CIC Research, and PA Consulting. Got bitten by the aviation bug and ended up an Avgeek. Then the data bug got me, making me a curious Avgeek seeking data-driven logic. Also, I appreciate conversations with smart people from whom I learn so much. Summary: I am very fortunate to work with and converse with great people.