Major South-American airline group LATAM is doing 'an Avianca'. Like its competitor, it has filed for Chapter 11 bankruptcy protection with the US Bankruptcy Court in the Southern District of New York to reorganize the company, it announced in the early hours of May 26.
Chapter 11 is the best path forward to achieve the group's objectives and meet is obligations, LATAM says. Under Chapter 11, LATAM will operate as normal while administrators explore restructuring options.
The voluntary protection includes LATAM's affiliates LATAM Airlines Group in Chile, LATAM Airlines Peru, LATAM Airlines Ecuador, LATAM Airlines Colombia, and entities in the US. In total, they add up to 28 debtors. Excluded are Brazil, Argentina, and Paraguay.
The airline group is in discussions with the governments of Brazil, Argentina, Chile, and Peru about financial support to safeguard as many jobs as possible and continue operations. It filed for protection in the US as most of its debts are there. Prime Clerck in New York is acting as claims and noticing agent.
Qatar Airways supports reorganization
The reorganization is supported by some of LATAM's biggest shareholders, the Cueto and Amaro families, and Qatar Airways, which has a 10.03 percent stake in the airline. They have provided a combined $900 million in debtor-in-possession financing that is available for the restructuring. This is additional to some $1.3 billion in liquidity.
LATAM said it has been forced to restructure as the impact of the Covid-19 crisis hit the airline group hard. The virus is raging deep within South America now, especially in Brazil. Many of its major markets have come to a standstill after governments imposed travel bans and closed borders.
"LATAM entered the Covid-19 pandemic as a healthy and profitable airline group, yet exceptional circumstances have led to a collapse in global demand and have not only brought aviation to a virtual standstill, but it has also changed the industry for the foreseeable future", said CEO Roberto Alvo in a written statement.
Alvo adds that the focus of the reorganization is "on transforming our group to adapt to a new and evolving way of flying, with the health and safety of our passengers and employees being paramount."
He hasn't given details as to what level LATAM will restructure its operations and what the impact is on the size of the group.
No mentioning of role Delta
Absent from restructuring announcement is LATAM's new partner Delta Airlines. The US major announced its intention last September to take a 20 percent stake in LATAM for $1.9 billion to build a strategic partnership that covers North and South America.
At the time, Delta and LATAM said the process could take up to 24 months to get regulatory approval. Yet, on May 7, both airlines announced the signing of a trans-American joint-venture agreement that is also conditional to regulatory approval.
As such, Delta has all interests in seeing that LATAM will successfully restructure its business but will be keen to know what its rival Qatar Airways has in mind.
In April, Delta took over the delivery positions for ten Airbus A350-900s from LATAM as already then the airline was reducing its commitments for the future. It also reviewed delivery schedules for its narrow-body aircraft. The airline has 36 A320neo's on order, of which 13 had been delivered by late April, plus 19 A321neo's.
LATAM ended 2019 with a net profit of $190.4 million compared to $309.8 million the previous year. The operating income was $741.6 million compared to 886.9 million. Revenues were $10.4 billion versus 10.3 billion in 2018. The airline will announce its Q1-results on June 1.
A date for the first day hearing at the New York court has yet to be set.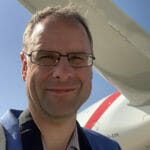 Active as a journalist since 1987, with a background in newspapers, magazines, and a regional news station, Richard has been covering commercial aviation on a freelance basis since late 2016.
Richard is contributing to AirInsight since December 2018. He also writes for Airliner World, Aviation News, Piloot & Vliegtuig, and Luchtvaartnieuws Magazine. Twitter: @rschuur_aero.