Lockheed Martin's LM-100J commercial freighter aircraft makes its international debut at the 2017 International Paris Air Show. The aircraft will be on static display June 19-21.
The LM-100J represents the 17th different mission capability for the C-130J Super Hercules platform and is an updated version of the L-100 cargo aircraft, which Lockheed Martin produced from 1964-1992. The LM-100J made its first flight on May 25, 2017.
Here's a video from the 2011 Paris show where the military version strutted it's stuff.
Too bad there was no video taken from the open back door!  While the civilian LM-100J will not need to perform like this, it is amazing to know that it can.  This is surely one of the world's greatest aircraft.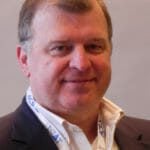 Co-Founder AirInsight. My previous life includes stints at Shell South Africa, CIC Research, and PA Consulting. Got bitten by the aviation bug and ended up an Avgeek. Then the data bug got me, making me a curious Avgeek seeking data-driven logic. Also, I appreciate conversations with smart people from whom I learn so much. Summary: I am very fortunate to work with and converse with great people.