A fallout between American Airlines and its regional partner Mesa Airlines has ended in a climax: American has terminated the contract with Mesa and will stop using its services from April. At the same time, Mesa is about to confirm a new long-term agreement with United Airlines. The spat has everything to do with pilot shortages at regional carriers.
Both American and Mesa notified their employees on Saturday about the situation but offered different explanations. American has concerns about the financial and operational stability of Mesa, Chief Financial Officer Derek Kerr said in a note to staff that was seen by CNBC. Mesa blames American for causing problems, but CEO Jonathan Ornstein advised staff to forget about the rumors and things that have been written.
According to Ornstein's note to staff, Mesa is losing $5 million per month on its services for American Eagle as its schedule is getting disrupted by two factors. It is losing pilots to rival airlines because American is refusing to pay wages for pilots at non-affiliated airlines like Mesa while increasing them for wholly-owned subsidiaries. Mesa itself also raised wages for its own pilots. "At the same time, we are being penalized for not producing the required block hours under our pre-Covid contract with American," says Ornstein.
The accumulating monthly losses on the American Eagle operations have raised concerns at Mesa about "American's ability to be a reliable partner going forward. (…) We just don't believe it is in Mesa's long-term interest to fund ongoing losses at American," said Ornstein. Kerr said that American and Mesa agreed that winding down its agreement would be the best for both.
At that point, Mesa approached United and start discussions "in earnest". This has resulted in an agreement that sees Mesa shift all its 40 Bombardier/Mitsubishi CRJ900s from American Eagle to United Express's regional services. It now flies 60 Embraer E175s for United Express, while 20 CRJ700s were parked in 2021. During Q3, 47 percent of Mesa's revenues of $134.4 million was derived from American Eagle, 46 from United Express, two percent from DHL Express, and five percent from others.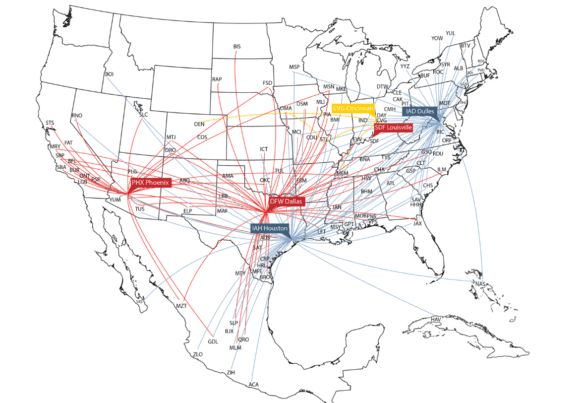 Mesa's current network. In red American Eagle, in blue United Express, and in yellow DHL Express. (Mesa Airlines)
The new agreement with United "will prove to be one of the most advantageous transactions in the history of regional aviation", said Ornstein in his note to staff. United will maintain all domiciles and engineering bases that are currently in use by American "and plans to add Denver as a domicile and Houston as a CRJ domicile." This will secure jobs for Mesa staff.
Mesa was supposed to announce its Q4 (September quarter) and full-year results last week but asked the Securities and Exchange Commission for extra time until December 29. The carrier reported a $-7.5 million net loss in FY21. The Q3 FY22 loss was $-10 million, caused by "industry-wide, elevated pilot attrition and the significant reduction in the commercial pilot pipeline, exacerbated by the 1,500-hour rule" as the reasons for its loss.
Ornstein said in August that "we intend to take dramatic action to address the pilot shortage through increased recruiting, additional simulator capacity, and expansion of our pilot pipeline. We are also pleased that United Airlines has expanded the Aviate program to include all of our pilots." Already in June, Mesa said it had an enhanced agreement about the United Aviate pilot training scheme, which allows Mesa pilots to earn service credit and include prior service to qualify for United's flying scheme with regional airlines.
To make sure that new pilots accumulate the 1.500 flying hours as quickly as possible that are required for an Airline Transport Pilot license, Mesa said announced in September that it will purchase 29 Pipistrel Alpha Trainer 2 aircraft with 75 on option. The first aircraft have been in service since October in Florida and offer young aviators up to forty training hours a week, for which Mesa will sponsor the required $25 per hour.
In August, Air Wisconsin Airlines announced that it would shift capacity from United to American as part of a new five-year agreement.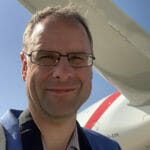 Active as a journalist since 1987, with a background in newspapers, magazines, and a regional news station, Richard has been covering commercial aviation on a freelance basis since late 2016.
Richard is contributing to AirInsight since December 2018. He also writes for Airliner World, Aviation News, Piloot & Vliegtuig, and Luchtvaartnieuws Magazine. Twitter: @rschuur_aero.