The Mexican aviation market has had the largest comeback from the COVID-19 downfall in Latin America, due to the V-shaped recovery of airlines like Volaris and Viva Aerobus and the lack of domestic travel restrictions in the country. Nevertheless, a full recovery is far from complete.
By September, Mexico was still 30% below the number of market seats offered in 2019, according to OAG. While Volaris, Aeromexico, and Viva Aerobus are still far behind its pre-COVID numbers, the downfall of the market seats can be attributed to Interjet's crisis, as seen in the following graph.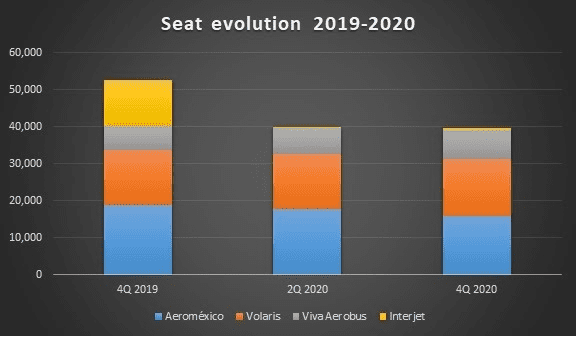 Interjet's fleet decreased by more than 90%. In January, the airline had a fleet of 88 aircraft (although it only used 66), composed of 22 Sukhoi Superjet 100 and 66 Airbus A320 family planes. Since March, the leasing companies have repossessed the Airbus fleet. As of September 2020, Interjet operates up to seven Sukhoi Superjet and wet leasing some ATR aircraft from Aeromar.
Nevertheless, the number of passengers between January and August 2020 is still 54.02% down versus 2019, according to data by the Ministry of Transportation in Mexico (SCT). Both domestically and internationally, Mexican airlines have transported 21.34 million passengers so far in 2020, with Volaris leading the way with 7.56 million passengers. 
Grupo Aeromexico is in second place, with 5.82 million passengers. Viva Aerobus is now in third place, surpassing Interjet for the first time in its history with 3.95 million passengers. Meanwhile, the troubled low-cost carrier Interjet has transported 3.45 million passengers.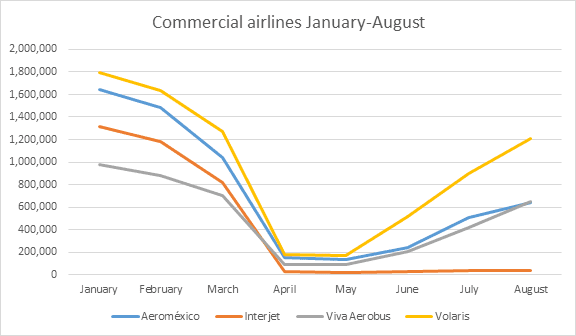 Currently, Volaris, Viva Aerobus, and Aeroméxico have already published their traffic numbers for September. In the case of Aeromexico, there are troubling signs that the international recovery might have hit its highest point in August. The legacy carrier saw an 18.75% international passenger decrease between August and September. 
Volaris saw a 0.2% increase between both months, and Viva Aerobus' monthly traffic figures don't differentiate between domestic and international travel, so we're bound to know the exact stats until the SCT publishes its latest data, by the end of October. 
Internationally, the numbers are far lower as many of the Mexican aviation industry's traditional markets are still closed, like Canada and Europe. Many South American countries have recently opened and the airlines are just restoring its city pairs. Also, the Mexico-USA market remained stagnant between August and September, with a 41.5% decrease compared to last year. 
The pandemic has led to some interesting developments. For instance, the city pair Los Angeles-Guadalajara (-49.7%) has become the number one route for international travel in Mexico. It has surpassed New-York Mexico (-70.7%) and Los Angeles-Mexico (-63.6%), which were number one and number two in 2019.
Finally, the international market share of Mexican airlines has shifted very interestingly in 2020. The year started with Aeromexico having 41.5% of the share, Interjet had 29.96%, Volaris had 24.3%, Viva Aerobus 4.1%, and Aeromar 0.1%. 
By August, Volaris has temporarily positioned itself as the biggest international operator in the country, by passenger numbers, with 56.59%, while Aeromexico fell to 35.6%. Interjet is no longer flying internationally since March. Viva Aerobus has 7.58% and Aeromar 0.22%.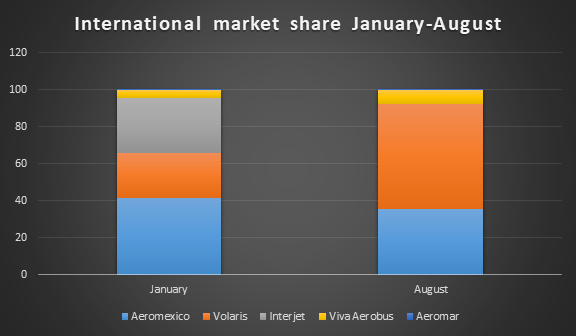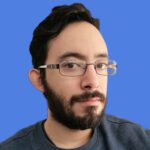 Daniel Martínez Garbuno is a Mexican journalist. He has specialized in the air industry working mainly for A21, a Mexican media outlet focused entirely on the aviation world. He has also published on other sites like Simple Flying, Roads & Kingdoms, Proceso, El Economista, Buzos de la Noticia, Contenido, and Notimex.