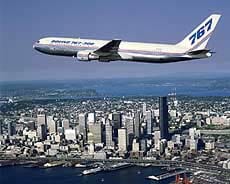 Yesterday Boeing announced another milestone – it started assembly of the 1,000th 767. The airplane is destined for ANA in Japan. ANA ordered its first of 89 767s in 1979 – 31 years ago.
That the 767 is a great airplane is unquestioned. This was the first long range twin that ultimately dominated service across the Atlantic between North America and Europe. It had just the right capacity to enable service from "secondary" cities and combined this with really good range. Most recently there has been a number of operators adding winglets to their 767s to add to this range – much as 757 operators have done.
But even as the 1,000th 767 goes through its birth pangs, the sun might be setting on the program. This wonderful airplane is about to be eclipsed by the 787.
As the aviation world waits for Airbus to decide whether it will re-engine the Airbus A320 family with (as expected) the Pratt & Whitney Geared Turbo Fan and the CFM International Leap-X, little thought has been given to the advantage PW will have with its GTF.
There has been plenty of debate whether the GTF technology or the more traditional Leap-X approach is the better answer. Engineers and pundits will be arguing about this until there are years of service and experience from which to draw definitive conclusions. And this is where PW will have an advantage.