Airbus wrapped up the 2019 Paris Air Show on June 20 with announcements for in total 363 new airliners, including 149 firm new orders and 214 MoU's, LoI's or purchase rights in some way or another. This positions the 2019 event in between Paris 2017 with 346 orders and Farnborough 2018, where Airbus scored 431 net new sales.
And the numbers have been changing since the End of show-press event, when Airbus announced an MoU with Saudia Arabia LCC Flynas for 10 A321XLRs plus the conversion of 10 A320neo's to A321neo's. Later on Jetblue converted options on 10 A220-300s into firm orders, while the US-airline also converted 13 A321neo's into A321XLRs.
During his presentation, CCO Christian Scherer summarized the deals. The A220 won 85 orders and commitments, including 50 from ALC, 10 from an undisclosed customer, 5 follow-on orders from Delta plus a last-minute MoU for 20 A220s from Nordic Aviation Capital (NAC).
The A320neo-family scored 127 orders and commitments, including 36 from undisclosed customers, 30 from Saudia, 23 from ALC, 20 from Accipiter Holdings, 11 from China Airlines, 5 from Cebu Pacific and 2 from Atlantic Airways.
Paris will be remembered best for the show at which Airbus launched its A321XLR. Scherer announced 226 orders and commitments: 50 each from American and Indigo Partners (Wizz Air/Frontier/Jetsmart), 26 from Qantas, 27 from ALC, 20 undisclosed, 15 from Saudia, 14 from IAG (Iberia/Aer Lingus), 10 from Cebu Pacific and 4 from Middle East Airlines.
While this number looks impressive, they include 99 conversions from A321neo's to the XLR. As such Airbus 'did a Boeing', just as the US airframer saw a raft of conversions from the MAX 8 to the MAX 10 two years ago in Paris.
On the widebody front Airbus had a very modest air show, recording just 24 sales for the A330-900: 16 from Cebu Pacific and 8 for Virgin Atlantic. Where his predecessor Eric Schulz announced agreements for 35 A350s (firm and MoU's) in Farnborough, Scherer was unable to get any deal done for this type while Boeing was more successful with the 787.
With many deals to be confirmed, Airbus didn't put a value on the portfolio it brings home to Toulouse.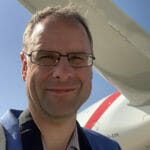 Active as a journalist since 1987, with a background in newspapers, magazines, and a regional news station, Richard has been covering commercial aviation on a freelance basis since late 2016.
Richard is contributing to AirInsight since December 2018. He also writes for Airliner World, Aviation News, Piloot & Vliegtuig, and Luchtvaartnieuws Magazine. Twitter: @rschuur_aero.