Qantas is on target with its three-year recovery plan to exit the current crisis but it will take some measures before it can emerge as a healthy airline again. The Australian airline reported a A$124 million underlying profit but a A$-2.7 billion statutory loss before tax for its fiscal year 2020, it said in August 20.
"We were on track for another profit above A$1 billion when this crisis struck. The fact that we still delivered a full year underlying profit shows how quickly we adjusted when revenue collapsed", said CEO Alan Joyce, who referred to the second half year as the toughest period in the airlines' 100 years history.
Qantas targets A$15 billion in cost savings over the next three years through right sizing and restructuring. For FY21, this includes $0.6 billion in savings trhough resturcturing and 1.7 billion through right sizing, stand down and leave of staff. The airline has 20.000 staff on stand down and expects to finalize 4.000 out of 6.000 targted redundancies before the end of September while improving productivity and flexibility accross pilots, cabin crew, and engineering. It took a A$642 million write down on restructuring costs in FY20.
More savings are to come from negotiations with suppliers about relief from minimum volume guarantees, and rationalisation of spending.
Savings should generate another $1.6 billion in FY22 and $1.0 billion for 2023 and 2024 each.
Part of cost savings is to come from reduces spendings on new aircraft by deferring deliveries of three Boeing 787-9s and Airbus A321neo's until further notice. This has saved Qantas A$0.4 billion in HY2. Qantas remains committed to its options on 36 A321XLRs.
Some 100 aircraft have been placed into storage, including all 12 Airbus A380s of which ten are in Victorville (California) for deep storage until at least 2023. Qantas has taken a large part of a A$1.4 billion non-cash write down on the A380s and has deferred the cabin refurbishment of six aircraft. If this will be done or if the A380s will be phased out hasn't been decided. Any aircraft that returns from storage must have a positive cash contribution.
Fleet reductions also includes the option to return up to sixteen aircraft to lessors if required. As reported, all six remaining Boeing 747-400s have been retired. Jetstar Asia has reduced its fleet by five aircraft, returning one to the lessor and redeploying four A320s to Jetstar Australia. At the end of June, Qantas Group's fleet totalled 314 aircraft.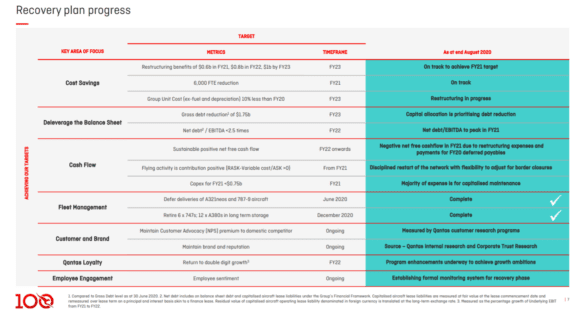 International revenues wiped out
As far as financials are concerned, Qantas saw a positive results in HY1 (A$ 771 million underlying profit before tax) fully negated by a A$-647 million HY2-loss, most of that in its April-June Q4. Qantas Loyalty achieved an underlying EBIT of A$341 million, the largest contribution to the Group's profit. The result was only nine percent lower than last year's.
Hit hardest has been the international business, which moved into losses as borders were closed and operations ceased. International recorded a A$56 million underlying EBITon 6.077 billion in revenues, -18 percent. The pofit was largely driven by a record performance of Qantas Freight. Passenger ticket revenues fell off a clif and were -100 percent. International is not expected te restart until July 2021 but possibly earlier on Trans Tasman routes.
Domestic achieved an underlying EBIT of A$173 million on A$4.672 billion in revenues, -23 percent. Ticket passenger revenues were -97 percent compared to last year as Qantas, Qantas Link, and Jetstar maintained only limited services to regional capital cities. Demand in Western Australia required the deployment of additional aircraft capacity.
Qantas expects to operate at 20 percent capacity in August, down from 31 percent previously announced, as states have closed borders again following new cases of Covid-19.
Jetstar Australia and New Zealand operated on a A$ 112 million profit despite travel restrictions and -99 percent lower ticket revenues but international operations were lossmaking and pushed underlying EBIT to A$-26 million. The airline is implementing a restructuring plan at Jetstar Japan and Jetstar Pacific, with the latter to be rebranded as Pacific Airways. Jetstar Asia in Singapore will reduce its fleet and workforce by over 25 percent.
Net free cash flow stands at A$-488 milion, down from 1.601 billion in FY2019, with a significant drop in operating cash flow as travel restrictions impacted operations. Total cash at the end of FY20 was A$3.520 billion compared to 2.157 billion the previous year. net debt remained almost flat at A$4.734 billion.
Qantas has A$4.5 billion in liquidity, including 1.0 billion in undrawn facilities. The Group raised 1,4 billion through a fully underwritten institutional placement but only A$71.7 through a share purchase plan. It borrowed A$1.75 bilion secured against eleven 787-9s and eight A320s. The Group received A$267 million in JopKeeper payments for employees on stand down. Gross government support amounted to A$515 million between January and July.
For FY21, Qantas is expecting a significant underlying loss, but the airline says it is "in a good position to ride out the storm and makte the most of the recovery."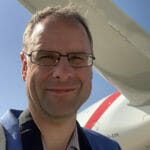 Active as a journalist since 1987, with a background in newspapers, magazines, and a regional news station, Richard has been covering commercial aviation on a freelance basis since late 2016.
Richard is contributing to AirInsight since December 2018. He also writes for Airliner World, Aviation News, Piloot & Vliegtuig, and Luchtvaartnieuws Magazine. Twitter: @rschuur_aero.