Airlines inside and outside Africa are upbeat about the growing opportunities and huge potential
Airlines inside and outside Africa are upbeat about the growing opportunities and huge potential in the continent's aviation industry. Driving this growth is Qatar Airways as it adds more routes on the continent and scales up its operations by acquiring or forging partnerships with other airlines operating there.
Kano and Port Harcourt will join Qatar Airways' Africa network, meaning the carrier will now serve four Nigerian cities. That's twice as many as Emirates, one more than Turkish Airlines, and the same number as Ethiopian Airlines, by far Africa's largest airline.  The two additions bring to eight the number of African destinations added by Qatar Airways since the pandemic started. They join Abidjan, Abuja, Accra, Harare, Luanda, and Lusaka, while Cairo and Alexandria resumed following the end of the blockade.
Africa's huge aviation potentials
Qatar Airways' Vice-President for Africa, Hendrik Du Preez in an exclusive interview with AirInsight said: "There is huge potential across the continent for new routes." Expect more announcements soon. He added, "Qatar Airways got ownership in a number of airlines globally. We are shareholders of the IAG group for instance. We have worked closely with Rwandair over the last couple of months. We announced the first part of the codeshare agreement which will cover 65 destinations on our network and their network. That is one of the areas that are underserved historically and for us to work closely with Rwandair to feed into their network and to have access to a broader network globally. It is what we are working on closely at this stage. We will be able to make more announcements, about how we are strengthening on it and building together."
"It affected us but we never stopped flying and we started much quicker. That is the agility we have had. We are in good stead right now but most countries are re-opening their borders. A lot of countries are relaxing restrictions and with that, the confidence of travelers would be boosted at the end of the day. A lot of people are not confident enough to travel because what happens if they are halfway into their destinations and you don't know what is going to happen. As more countries relax, you see more confidence building up, you will see a sharp steep curve of regaining momentum again. I hope so anyway".
Qatar Airways currently spends nearly 10 hours on the ground in Abuja (ABV). This significant downtime, for connectivity reasons, has enabled Kano (KAN) and Port Harcourt (PHC) to be added.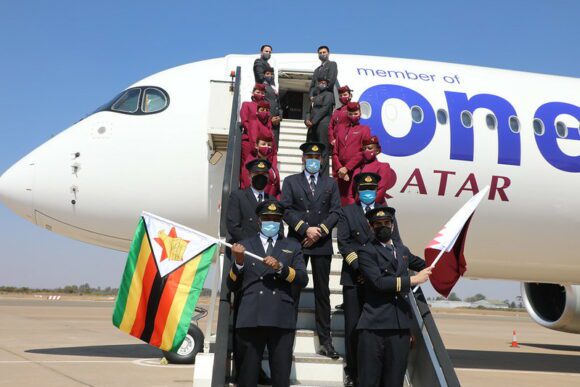 Qatar Airways added Lusaka and Harare to its network in August 2021. (Qatar Airways)
Reaching out to other carriers
The carrier with over 140 destinations across its network and partnerships, has twenty African airlines including RwandAir, with which it sealed a milestone codeshare agreement last year in Kigali, Rwanda. RwandAir and Qatar Airways signed a comprehensive codeshare agreement to offer travelers more choice, enhanced service, and greater connectivity to more than 65 destinations across Africa and the rest of the world.
"There are different types of partnerships we have with airlines globally and not just in Africa, adding that they are working very closely with many airlines across the continent. I think the economics of scale with partnerships and if both can benefit at the end of the day, it is going to be key in the aviation industry for them. I am a key believer in partnerships. In Africa, there are still many opportunities, to work closely with other airlines", Du Preez added.
In the past decade, Turkish Airlines has tripled the number of African cities it serves — from 18 to 56, while other Middle Eastern, European, and Asian airlines, are adding routes as well.
Rush for capital
Meanwhile, other African carriers are rushing to raise capital to fund their expansion, by offering to sell stakes to other airlines on the continent and others from the United States, Europe, and the Middle East.

For example, in 2019, shortly before Coronavirus, the continent's largest airline by revenue and profit, Ethiopian Airlines, signed a deal to acquire a 45 percent stake in Zambia Air, resurrecting the Zambian flag-carrier more than two decades after its shut-down.  Moreover, another sign that Africa's aviation industry is witnessing an upturn is that low-cost carriers have begun serving second-tier cities on the continent, a trend that industry experts expect to continue. South Africa's Kulula became the continent's LCC airline in 2001. Since then, others have jumped in, connecting cities that bigger carriers deem unprofitable to serve at prices the growing middle-class can afford.
More investments in airports
Modernizing outdated airport infrastructure also requires major investment to meet growing passenger volumes. As a result, cities are opening their doors to private and foreign capital investment to fill the infrastructure gap.
Gulf-owned Qatar Airways is betting big on African aviation, swooping in to buy a 49 percent stake in RwandAir, as well as a 60 percent stake in a new $1.3 billion international airport planned on the outskirts of Rwanda's capital, Kigali.

As global competitors race to capitalize on Africa's burgeoning commercial aviation sector, Ethiopian Airlines has created a blueprint called Vision 2025 to expand its reach even further. The key to the plan is building Africa's largest airport in a bid to make Ethiopia the region's leading aviation hub.  The brand new 5 billion airport outside the capital Addis Ababa can handle 22 million passengers a year, as the rapidly-expanding carrier outgrows capacity at its current base in the capital's Bole International Airport.