UPDATE ALC – A dispute with Airbus over a quality issue on Qatar Airways A350s has entered a new stage. On explicit instruction of the Qatar regulators, the carrier has grounded thirteen A350s. CEO Akbar Al Baker wants Airbus to step up its game and treat "the matter with the proper attention that it requires", he said in a media statement released on August 5. Qatar grounds 13 A350s over quality spat.
The issue was first reported in late May by Reuters when it emerged Qatar Airways wasn't satisfied with the paint quality on some of its A350s. The airline subsequently refused to take delivery of any A350s that were parked at the Airbus delivery center in Toulouse, although it seemed the refusal was also related to Qatar's unwillingness to take any additional aircraft during the pandemic.
In the August 5 statement, Qatar says that during inspections, it was found that the fuselage surface below the paint is degrading "at an accelerated rate." How the degradation affects the composite fuselage and what is causing it isn't clear. Airinsight has asked Qatar Airways to clarify the problem. We also asked if the issue is exclusive to Qatar's A350s or that it has learned from other A350 operators as well. The airline replied on August 9, saying it has nothing to comment on at the moment.
Qatar has a fleet of 53 A350s
Qatar has a fleet of 34 A350-900s and 19 -1000s, with six more -1000s on order. According to data from Planespotters, 11 -900s and two -1000s are currently out of service. If these are the thirteen aircraft that are referred to in the media statement, isn't confirmed. The airline will return some stored A330s into service. Qatar has six A330-300s in service and two in storage, plus four -200s in storage. It also looks at other options to compensate for the lost A350 capacity. The carrier has ten A380s in deep storage. Al Baker said earlier that these are unlikely to re-enter service again as the quad-engined plane is less fuel-efficient and has a much worse environmental footprint than the A350s.
The A350s will remain out of service until the root cause of the degradation is fully understood and a solution for a fix has been found. In the meantime, "Qatar Airways will not accept anything other than aircraft that continue to offer its customers the highest possible standard of safety and the best travel experience that they deserve.  Qatar Airways expects Airbus to have established the root cause and permanently corrected the underlying condition to the satisfaction of Qatar Airways and our regulator before we take delivery of any further A350 aircraft."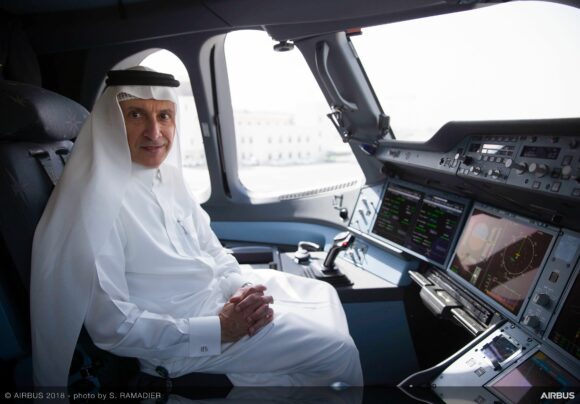 Qatar Airways CEO Akbar Al Baker in the cockpit of an Airbus A350-1000. (Airbus)
Airbus isn't publicly commenting on the latest quality spat with Qatar except saying that "as a leading aircraft manufacturer, we are always in talks/working with our airlines. Those talks we keep confidential." A spokesperson adds that the airframer and EASA have been looking into some in-service A350 surface paint issues since they emerged late last year on a Qatar A350 that was prepared for repainting in Shannon. As the cracks didn't affect the composite structure, the surface irregularities had no airworthiness impact on the fleet. "Most of the root causes have been identified. No additional inspections are required beyond existing scheduled maintenance. Airbus continues to monitor the situation and is in regular contact with its customers and the regulatory authorities."
Air Lease Corporation hasn't seen the issue elsewhere
During the HY1-results presentation on August 5, President and CEO John Plueger of Air Lease Corporation (ALC) said the paint quality issue has been new to him: "We have not seen this concern shared by any other airworthiness authority or by any other airline, nor has Airbus told us that there is any reason for concern. I am not minimizing what they (Qatar Airways) are saying. I am saying that we have not heard this from anybody else. I don't know the basis for it, so I really can't comment further. This is a new development and we have to see what their aviation authority and in fact Airbus says. "
 Not the first clash between Qatar Airways and Airbus
Qatar's quality spat with Airbus is not the first one. Back in 2014, the carrier refused to take delivery of its first A380 until it was satisfied that a quality issue with the interior sidewalls and seats was solved. In June 2016, Qatar canceled an order for fifty A320neo's with Pratt & Whitney PW1100G-JMs when the engines were suffering from numerous technical issues. Qatar later ordered A321neo's and A321LRs  with CFM LEAPs.
The timing of the spat is interesting: Al Akbar has said recently that he is interested in placing an order for potentially up to fifty wide-body freighters. Airbus has launched the A350 Freighter on July 29 without announcing a launch customer, which could be Qatar. Under the current circumstances, any announcement is unlikely. Al Baker could turn to Boeing and push them to launch the 777X Freighter, but the Americans are busy sorting out various software and hardware issues on the 777-9. It seems unlikely that Boeing is ready to launch a 777X Freighter until the program is on track for certification and first deliveries, which are expected in late 2023.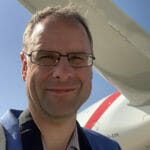 Active as a journalist since 1987, with a background in newspapers, magazines, and a regional news station, Richard has been covering commercial aviation on a freelance basis since late 2016.
Richard is contributing to AirInsight since December 2018. He also writes for Airliner World, Aviation News, Piloot & Vliegtuig, and Luchtvaartnieuws Magazine. Twitter: @rschuur_aero.