Engine maker Rolls-Royce is capable of performing much better than it does right now. It should significantly improve the operating profit and cash position and deliver efficiency improvements to generate more cash and reduce its much too high debts so that shareholders are rewarded with better returns. That was the clear and strong message of new CEO Tufan Erginbilgic during today's FY22 results presentation. Rolls-Royce's new CEO has clear targets in mind.
Former BP veteran Erginbilgic is leading the British industrial company only since January 1 as successor to Warren East. Already some weeks ago, he made a sharp analysis of where Rolls-Royce stands, warning that the company is grossly underperforming. He even referred to it as a "burning platform" that faced a "last chance" if it wanted to change. Already last year, analysts were concerned about the HY1 results.
Today, Erginbilgic was hardly any more positive and sounded like a doctor analyzing a seriously ill patient. He based his analysis on visits to Rolls-Royce's important sites in the UK and Germany. Rolls has great people, some of the best products, and good market positions that are recovering, but "we cannot rely on market recovery alone to deliver better performance in the future. I have much higher expectations and improvements need to be delivered on a sustainable and underlying base. Rolls-Royce has been underperforming for an extended period."
This is demonstrated by the -67 percent shareholder return between 2018 and 2022, which can't be blamed on just the Covid crisis. Erginbilgic noted that cash generation is unsatisfactory and debt too high, as is £25 billion in gross working capital. "Too much of our gross profit is simply covering our overheads and interest payments. A weak balance sheet and investment credit rating limit our to invest in growth for the future." A recent benchmark has confirmed this. The new CEO said that R-R lacks strategic clarity to make investment choices and tried to keep too many options open.
Transformation
So far for his analysis. To get Rolls-Royce on the right course, Erginbilgic announced a transformation program that should make it a more competitive company. It focuses on disciplined capital allocation in specific programs and quality growth in profits rather than just market expansion, leading to sustainable earnings growth and cash generation. The business should become more efficient, with a competitive cost base and deleveraging the balance sheet at pace. The company also needs a different and winning mindset and culture that drives performance.
A strong and flexible balance sheet should result in shareholder distributions and fund future growth. "We will build a strong Rolls-Royce to deliver this proposition. We are already in action and are proceeding with a sense of urgency", he said. Various workstreams have been established that will produce detailed plans to be presented in the second half of the year.
Under his guidance, Rolls-Royce will only invest in new technologies with which it can differentiate and for which market opportunities are sufficiently large, with a viable business model that includes synergies with existing activities. Where they are purposeful, Rolls-Royce will enter partnerships. This new strategy covers all business segments, Civil Aerospace, Defense, Space, Power Systems, and New Markets. When it comes to commercial optimization, the focus will be on Civil Aerospace and Power Systems.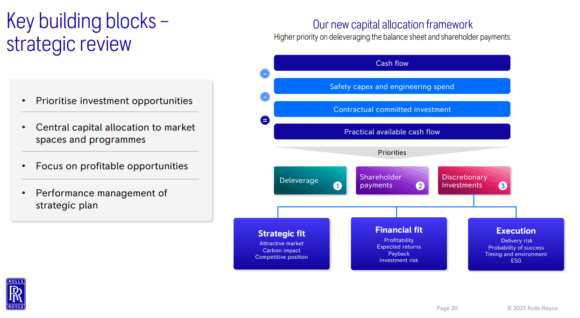 "This is not about one business that should stay and one that should be sold. All of the established businesses have the potential to create significant future value. One of the outcomes of the strategic review will be to determine in which areas we will invest and which we will not. This is a change from the past when there was more autonomy within individual businesses. (…) We cannot allocate capital to projects that have low returns," Tufan Erginbilgic said.
Erginbilgic said that Rolls-Royce needs to seek sustainable cost efficiencies across the group. A task force has started reviewing all long-term service agreements for large civil engines, while others look at ways to lower production costs and improve margins. Although still early days, the first positive effects have been evident with revised contracts and double-digit price increases on spare parts, with more to come this year.
The CEO said he isn't worried about the potential brain drain of more staff, at a time of staff shortages within the specialized industry. According to Erginbilgic, staff supports the transformation: "Who doesn't want to work for a successful company?  (…) Starting with a clear strategy, everybody will know their role."   
2022 results
In 2022, Rolls-Royce reported a consolidated profit of £206 million compared to £36 million, with revenues of £12.691 billion versus £10.947 billion. The operating margin improved to 5.1 percent from 3.8 percent. Free cash flow improved to £505 million from £-1.485 billion.
Civil Aerospace produced £5.686 billion in revenues, up from £4.536 billion in 2021. The operating profit was £143 million versus £-172 million the year before. This was driven by improved margins on long-term service agreements, positive LTSA catch-ups, a higher volume and a different mix of large spare engine sales with more third-party sales to capacity providers. Large engine shop visits grew from 208 to 248 last year or 1.044 in total.
Rolls-Royce delivered 190 large and 165 business and regional engines for a total of 355, up fifteen percent in 2021. Engine Flying Hours grew to 13.2 million, up 35 percent over 2021 and 65 percent of 2019 levels. EFH is expected to reach eighty to ninety percent in 2023, but business engines remain above 2019 levels.
For 2023, Rolls-Royce is guiding an operating profit of £0.8 to £1.0 billion and a free cashflow of £0.6 to £0.8 billion. This guidance includes a £200 million legacy on Boeing OE concessions and an impact of around £100 million due to fires at two suppliers in late 2022 and early 2023.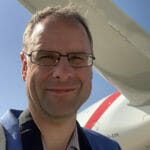 Active as a journalist since 1987, with a background in newspapers, magazines, and a regional news station, Richard has been covering commercial aviation on a freelance basis since late 2016.
Richard is contributing to AirInsight since December 2018. He also writes for Airliner World, Aviation News, Piloot & Vliegtuig, and Luchtvaartnieuws Magazine. Twitter: @rschuur_aero.