It's not just happy faces Down Under at Air New Zealand, but at Qantas too. The Australian carrier also returned to profitability in HY1 of FY23, reporting an underlying profit before tax of $1.428 billion versus a $-1.277 billion loss in the same period of FY22. CEO Alan Joyce marked the result as "a huge turnaround, considering the massive losses we were facing just twelve months ago." Qantas sees huge turnaround – unveils A350 cabins.
Joyce has said before that the Covid-crisis has cost Qantas $7.0 billion, largely the effect of the strict travel restrictions that were imposed by the Australian government. The airline is now on a strong recovery which has been restrained by supply chain issues, staff shortages, and high inflation. This has pushed fares up, but Joyce is seeing a change: "Now those challenges are starting to unwind, we can add more capacity and that will put downward pressure on fares", he said in a media statement.
Qantas' statutory profit after tax was $1.008 billion compared to $-456 million in FY22. Total revenues were $9.909 billion, up from $3.074 billion. Passenger revenues were $8.393 billion thus HY1 compared to $1.534 billion the year before. Cargo revenues were slightly down to $810 million from $920 million. Total expenditures grew to $8.365 billion from $4.203 billion. The operating margin was a healthy 15.6 percent. Total liquidity was $5.4 billion by the end of December and net debt $2.4 billion, down from $3.9 billion in July. The company will buy back $500 million in shares.
Domestic and International
The airline operated at on average 72 percent capacity, but Domestic was back to 94 percent while International recovered to sixty percent of pre-Covid levels. Domestic generated $3.634 billion in revenues, up 222 percent year on year, and produced an underlying EBIT of $785 million compared to $-613 million in FY22. On-time performance was almost back to 2019 levels, although departures were on time only 81 percent of all flights.
International generated $3.802 billion in revenues versus $1.317 billion in HY1 FY22. The underlying EBIT was $464 million compared to $-238 million. The business unit benefitted from record revenues per available seat kilometers (RASK) as overall capacity on international routes remained compromised. Qantas also grew the network in growth markets like South Korea and India while resuming services to Japan and Chile.
Low-cost subsidiary Jetstar Australia produced $2.096 billion in revenues, up from $394 million. The underlying EBIT was $177 million versus $-477 million the year before. The carrier reported strong demand on core leisure routes like those to Melbourne and the Sunshine Coast, boosting capacity to 94 percent. Domestic contributed $130 million to the underlying EBIT and International by $47 million. Here, Japan and South Korea contributed strongly, although Jetstar Japan still suffered a $-25 million loss due to weak domestic demand.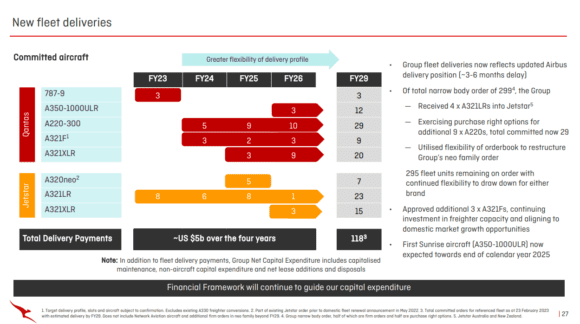 Qantas orders nine more A220-300s
Qantas announced a number of fleet updates today. Before it has even taken delivery of the first aircraft, the airline exercised options on nine Airbus A220-300s to bring the fleet to 29. The additional aircraft will be delivered in FY26 and FY27. The first five A220s are scheduled for delivery in FY24, nine in FY25, and ten in FY26. The first three A321XLRs will arrive in FY25, followed by nine in FY26.
The regional fleet of sixteen Embraer E190s that are wet-leased from Alliance Airlines to QantasLink will grow by twelve and should get to thirty aircraft by Q1 of 2025. The domestic fleet will grow by five Airbus A319/A320s that will be wet-leased from Network Aviation. They will be deployed in Western Australia to cater to demand. Demand is also the reason that Singapore-based Jetstar Asia will get two extra A320s to grow the fleet back to nine aircraft. Qantas Freight will expand the fleet with three additional Airbus A321P2Fs converted freighters, on top of the three scheduled for FY24 and two in FY25. Two A330P2Fs joined in February.
The Qantas international fleet currently includes five Airbus A380s that have been brought back from storage in Victorville. The airline would like to add five more but is confronted with capacity restraints at MRO shops that delay the return of the tenth and last one to early 2025. Three more Boeing 787-9s are expected by the end of the year.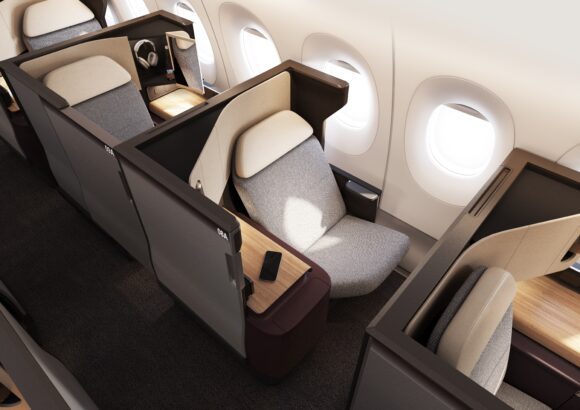 The new Business Class suite on the A350-1000 will have sliding doors. (Qantas)
Project Sunrise cabins
Deliveries of the first three of twelve Airbus A350-1000 for the ultra-long-range Project Sunrise flights to London and New York have slipped to late 2025. However, Qantas unveiled prototypes of the First and Business Class cabins today.
The six First Class suite (main picture) comes with an extra-wide fixed bed, a separate recliner seat, a personal wardrobe, a dining table for two, and a 32-inch high-definition TV screen. The suites are arranged in a 1-1-1 position, with all passengers having direct access to the aisle.
The 52 Business Class suites are in a 1-2-1 configuration and feature a two-meter flatbed, a cushioned leather ottoman seat, an eighteen-inch TV screen, a large dining table, and feature lighting. And they have sliding doors for full privacy.
Customers can enjoy free WiFi from Viasat, the same system recently announced by airBaltic. The Qantas A350-1000 will have 238 seats.
Outlook
Looking ahead, Qantas is seeing continued strong demand despite economic uncertainties. Revenues are already well over 2019 levels, with Domestic at 112 and International at 113 percent. Domestic capacity is expected to reach 103 percent in Q4 (April-June) or 97 percent on average for the full year. International should recover to 81 percent in Q4 and 68 percent for the full year.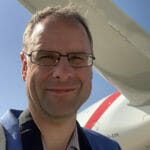 Active as a journalist since 1987, with a background in newspapers, magazines, and a regional news station, Richard has been covering commercial aviation on a freelance basis since late 2016.
Richard is contributing to AirInsight since December 2018. He also writes for Airliner World, Aviation News, Piloot & Vliegtuig, and Luchtvaartnieuws Magazine. Twitter: @rschuur_aero.