Following the ban of all Russian commercial and business aircraft by the European Union, the UK, and Canada on February 27, Russia has responded by banning airlines from 36 countries from using its airspace for the next three months but not the US, Moscow has announced on February 28 and reported by Reuters. The announcement follows the unprecedented events around Russia and Ukraine in recent days and the unprecedented response from many countries to the hostilities. Russia responds with ban of air travel from 36 countries.
The reciprocal measures will have serious implications on international air travel across the Northern hemisphere, as Russian airspace is now blocked for many airlines, preventing them to use the most effective routes to Asia.
Numerous airlines anticipated this and announced in the past days that they would stop using Russian airspace. On Sunday, that included Air France-KLM, with the Dutch airline a couple of hours ahead of its French partner. Lufthansa Group followed suit. The only carrier that had been blocked by the Russians until then was British Airways, which followed after Prime Minister Boris Johnson was the first to deny Aeroflot access to UK airspace on February 24. Smaller airlines have also stopped flying to Russia, including airBaltic. Singapore Airlines said it has suspended flights to Moscow.
It remains to be seen how airlines are able to reroute between Europe and Asia. Taking a southerly route via the Middle East and India will take longer, costing more fuel, and disrupting crew schedules. This could affect frequencies and ticket prices as well as rates for cargo, which already have been at very high levels during the pandemic.
Finnair impossible to continue Asian operations
Ahead of the closure of Russian airspace to EU carriers, Finnair was one of the first today to identify the impact. Bordering directly to Russia, the inability to fly over Russia to its Asian destinations severely hinders operations. "Bypassing the Russian airspace lengthens flight times to Asia considerably and, thus, the operation of most our passenger and cargo flights to Asia is not economically sustainable or competitive", Finnair's CEO Topi Manner said on Monday in a media statement. The airline withdrew its guidance for the second quarter and its HY2 of the financial year 2022. Later today, Finnair said that it is working on a revised flight schedule to Japan, China, and South Korea and hopes to announce more by the end of the week.
EU sanctions have predominantly hurt Aeroflot, the main Russian airline that operated into the EU. The last services back home to Moscow and elsewhere departed on Sunday afternoon. Flight SU124 to New York JFK was already close to Greenland when it returned to Moscow. SU111 to Miami continued, however, and violated Canadian airspace on its way in. Transport Canada is investigating why the flight was granted access by service provider NAVCAN.
Cargo airlines AirBridge Cargo and Volga-Dnepr are seriously affected by the ban, as they are unable to operate their multiple services into the EU. But this will be felt in the US as well, as many flights (including those from Amsterdam) were onward services.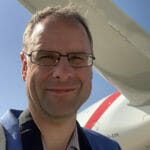 Active as a journalist since 1987, with a background in newspapers, magazines, and a regional news station, Richard has been covering commercial aviation on a freelance basis since late 2016.
Richard is contributing to AirInsight since December 2018. He also writes for Airliner World, Aviation News, Piloot & Vliegtuig, and Luchtvaartnieuws Magazine. Twitter: @rschuur_aero.