Saudi Arabia's long-term aviation vision has added a new chapter to its strategy book by announcing the establishment of a new aircraft leasing company, AviLease. The plan was announced on June 29 by the country's Public Investment Fund (PIF), which oversees strategic investments by the Kingdom of Saudi Arabia. Saudi Arabia enters lessor market with AviLease.
AviLease "aims to be a leading institution across the aviation leasing value chain, maintaining an optimal portfolio of assets with its core focus on leasing, trading, and asset management services", PIF says in a media statement.
"AviLease will initially focus on scaling through purchase-and-lease-back transactions with airlines, portfolio acquisitions, and direct orders from aircraft manufacturers. It will also look into expansions through corporate acquisitions. The company's fleet will consist of the new generation of narrow-body and wide-body aircraft from the world's leading manufacturers."
The media statement doesn't say if AviLease has already entered negotiations with OEMs or even signed any purchase agreements. Neither is it clear if AviLease is involved with the financing agreement signed in March 2021 for 73 aircraft from Airbus and Boeing by state-owned Saudi Arabian Airlines. Saudia's manager of corporate affairs, Abdullah M. Alshahrani, told AirInsight at last November's Dubai Airshow that the airline was in negotiations with Airbus and Boeing about orders for widebody aircraft as part of the country's Vision 2030.
The PIF statement adds: "AviLease is managed by a top-tier team that will lead its growth, localized knowledge and expertise, and enables the development of the company's desired infrastructure, with plans to become a national champion in the aircraft leasing market. Additionally, the company's establishment will contribute to the reduction of value leakage for Saudi Arabia, while enhancing integration into the global aircraft financing market."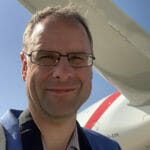 Active as a journalist since 1987, with a background in newspapers, magazines, and a regional news station, Richard has been covering commercial aviation on a freelance basis since late 2016.
Richard is contributing to AirInsight since December 2018. He also writes for Airliner World, Aviation News, Piloot & Vliegtuig, and Luchtvaartnieuws Magazine. Twitter: @rschuur_aero.