It's a strange twist of fortune: while UK low-cost airline easyjet will launch its Holidays business before year-end and likewise Air Asia is investing heavily in its holiday-branch, one of the oldest names in business has collapsed. Late on Sunday, September 22, all-inclusive travel group Thomas Cook applied for compulsory liquidation after failing to raise sufficient funds to guarantee its future. The UK government was unwilling to help, saying funding would not help to turn the company's future.
As a result, thousands of mostly UK-holiday travelers saw their holidays come to an end before they even started, while others where stranded at airports around the world.
Just like after the collapse of Monarch in quite similar circumstances two years ago, it is the UK Civil Aviation Authority (CAA) to act as Thunderbird's International Rescue. Under Operation Matterhorn, the CAA will source a fleet to fly home all affected travelers before October 6. As such it wet-leased a Malaysia Airlines A380 to operate from Manchester, amongst others.
Thomas Cook Scandinavia stopped flying on Monday too. Thomas Cook's Dutch affiliate Neckermann canceled all departing flights for Tuesday and later said it would stop all operations as it was unable to guarantee that all bookings with hotels will be confirmed.
Condor Boeing 757-300. (Condor)
TC's German subsidiary Condor continued to operate and sell holiday-packages as planned on Monday. On Tuesday, the airline was granted EUR 380 million in bridge funds to continue for the next six months. Funds will only become available after approval of the European Commission, who will check on unauthorized state-aid.
Condor operates 58 aircraft, including those of Thomas Cook Aviation and Balearics. Condor stressed it has been profitable in the last full fiscal year 2017-18 and is expected to improve during this year's 9-month-period.  However, it is no secret that the airline that Thomas Cook bought from Lufthansa in 2003 might end up in the hands of its former owners again. Lufthansa CEO Carsten Spohr confirmed this Spring he still has an interest in Condor, which origins date back to 1955.
While its subsidiaries in Germany, Spain, India, and China as for now will continue trading, UK-based Thomas Cook Group with a history dating back to 1841 will most likely be sold off to generate cash to pay the creditors. For years, the travel group had a rock-solid reputation, offering high-quality, all-inclusive travel packages to luxurious resorts worldwide, offering jobs to 22.000 staff worldwide.
After a small profit in 2018, Thomas Cook's revenues sky-dived this year and losses mounted to GBP 1.6 billion as bookings were lagging behind, blamed on the summer heatwave and especially nervousness over Brexit. And not to forget the ever-increasing competition from internet-bookings and low-cost packages.
"A matter of profound regret" 
In recent weeks, Thomas Cook tried to restructure its debts by securing fresh funds of GBP 900 million from Chinese investor Fosun. Fosun was willing to help, but banks requested another GBP 200 million in contingency funding. Attempts to get these funds available by Sunday night failed and the group collapsed.
As CEO Paul Fankhauser said in a statement: "We have worked exhaustively in the past few days to resolve the outstanding issues on an agreement to secure Thomas Cook's future for its employees, customers, and suppliers. Although a deal had been largely agreed, an additional facility requested in the last few days of negotiations presented a challenge that ultimately proved insurmountable. It is a matter of profound regret to me and the rest of the board that we were not successful."
The collapse of Thomas Cook Group and Thomas Cook Scandinavia brings a fleet of 46 aircraft on the market. The UK-subsidiary operated 27 Airbus A321s, the youngest 3.5 years and the oldest 20.4 years old. All but two were on lease from numerous lessors like Aviation Capital Group, Air Lease Corporation, BBAM, AVAP, Avolon, Carlyle Aviation Partners, and others. The long-haul fleet consisted of seven A330-200s, all over 11 years old, of which three were owned, and four leased from ACG and ALC. Thomas Cook Scandinavia has grounded four A330-200/300s and eight A321s, leased from CCB, Macquarie, and GECAS amongst others.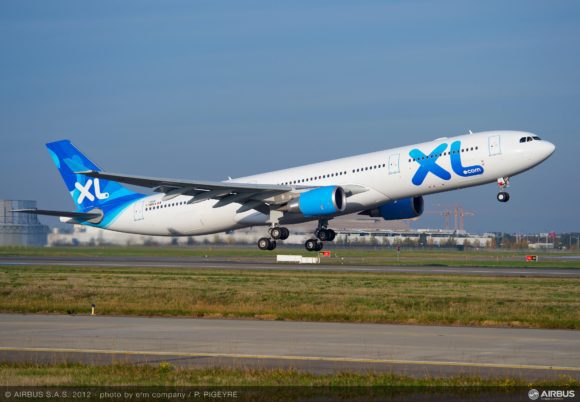 XL Airways Airbus A330-300. (Airbus)
Similar events in France
Thomas Cook's demise follows shortly after similar events in France. Early September, Aigle Azur was declared bankrupt, while on September 19 XL Airways has stopped trading. Both airlines are hoping for a re-start, but their future looks bleak. A group of bidders that included Air France withdrew its offer for Aigle Azur, which possessed important slots at Paris Orly Airport. La Tribune newspaper reported that XL has filed an injunction to hear Air France in court over a preliminary take-over that XL claims was negotiated in 2017 under then-CEO Jean Marc de Janaillac but withdrawn after he was succeeded by Ben Smith.
Aigle Azur operated a fleet of one Airbus A319, eight A320s, and two A330-200s. XL Airways had four A330-200s and one -300.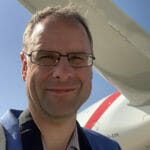 Active as a journalist since 1987, with a background in newspapers, magazines, and a regional news station, Richard has been covering commercial aviation on a freelance basis since late 2016.
Richard is contributing to AirInsight since December 2018. He also writes for Airliner World, Aviation News, Piloot & Vliegtuig, and Luchtvaartnieuws Magazine. Twitter: @rschuur_aero.