easyJet expects to significantly reduce its HY1 losses this financial year 2023, based on continued strong demand for tickets and package holidays. The low-cost airline benefitted from strong bookings in its first quarter (October-December), reducing the pre-tax headline loss to £-133 million from £-213 million last year, it reported in a trading update on January 25. Strong bookings make easyJet positive for HY1 2023.
Passenger revenues increased to £975 million in Q1 from £547 million last year, with ancillary revenues up to £406 million from £230 million or £20.06 per seat. easyJet Holidays reported almost four-fold revenues of £93 million from £28 million. Combined revenues ended at £1.474 billion, up from £805 million, or 36 percent higher per seat. Group headline EBITDAR was a positive £42 million versus £-42 million last year. The airline carried 17.5 million passengers in Q1, up from 11.9 in October-December 2021.
"We have seen strong and sustained demand for travel over the first quarter, carrying almost 50% more customers compared with last year", CEO Johan Lundgren said in the trading update release. "Many returned to make bookings during the traditional turn of year sale where we filled five aircraft every minute in the peak hours, which culminated in three record-breaking weekends for sales revenue this month."   
Lundgren added: "This strong booking performance, aided by the airline's step-changed revenue capability, has driven an £80m year-on-year boost in the first quarter with continued momentum as customers prioritize spending on holidays for the year ahead. easyJet holidays, the fastest growing holidays company in the UK, is upgrading its ambitious growth plans for the year given the strong demand."
easyJet expects to significantly reduce its HY1 headline loss compared to that of financial year 2022, when it reported a Group headline loss before tax of £-545 million and a post-tax result of £-431 million. Capacity will grow by 25 percent year-on-year to 38 million seats in HY1, with a further increase to 56 million seats in HY2. Total capacity should have recovered to 2019 levels between July and September.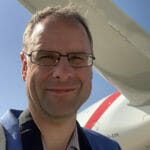 Active as a journalist since 1987, with a background in newspapers, magazines, and a regional news station, Richard has been covering commercial aviation on a freelance basis since late 2016.
Richard is contributing to AirInsight since December 2018. He also writes for Airliner World, Aviation News, Piloot & Vliegtuig, and Luchtvaartnieuws Magazine. Twitter: @rschuur_aero.